Affordable Roll-Off Dumpster Rentals in Butler, PA
KEI offers affordable roll-off dumpster rentals for all your commercial and residential projects in Butler, PA and beyond. Our service area includes Armstrong, Butler, Clarion, Mercer, and Northern Allegheny counties. We offer fast and flexible dumpster delivery services that meet your schedule.
Whether you want to declutter your home of unwanted junk or need to haul away construction debris from a commercial site, we've got your disposal needs covered. Generating unwanted trash or garbage during cleanouts is no problem when you order a roll-off from KEI. 
When you choose KEI as your dumpster rental service, we guarantee:
Affordable roll-off dumpster rentals.
Driveway-friendly drop-offs.
Flexible delivery and pick-up times.
No hidden service fees.
Request a quote to get started with your clean-up project today!
Clean Up Faster with KEI Dumpster Rentals
Decluttering your basement? Renovating your main street business? Doing either creates a lot of garbage, trash, and other debris. Don't drive back and forth to the landfill. Give KEI Dumpster Rental a call instead to get a roll-off delivered direct to your home or business in Butler and surrounding communities.
Cleaning up commercial or residential sites is easy and fast when you rely on KEI Dumpster Rental to right-size your junk removal solution.
We have Dumpster rental sizes suitable for every project. Tell us what you need to throw away, and we can recommend the right roll-off dumpster to get the job done.
Get Rid of Your Junk Fast
Clutter and other unwanted junk can pile up quickly. Cleaning, organizing, and renovating can feel impossible if you don't have a way to get rid of unwanted materials. Most curbside trash removal services don't take construction debris and other mass quantities of household junk.
On-site dumpsters from KEI are an efficient tool for any clean-up task. Dumpsters can handle all types of construction and household waste. Just let us know what materials you need to dispose of, and we can find the perfect size dumpster to accommodate.
KEI offers fast turnaround times from request to drop-off for on-site dumpster rentals. Give us a call or request a quote to get started.
Commercial Roll-Off Dumpster Rentals Butler, PA
KEI offers commercial roll-off dumpster rentals for recurring or temporary needs. We can schedule dumpster delivery and retrieval times based on your specific timetable.
Our team may request additional information before we can process your request. Some counties and municipalities require permits for dumpsters located in public places. We'll help you comply with all rules and regulations before scheduling.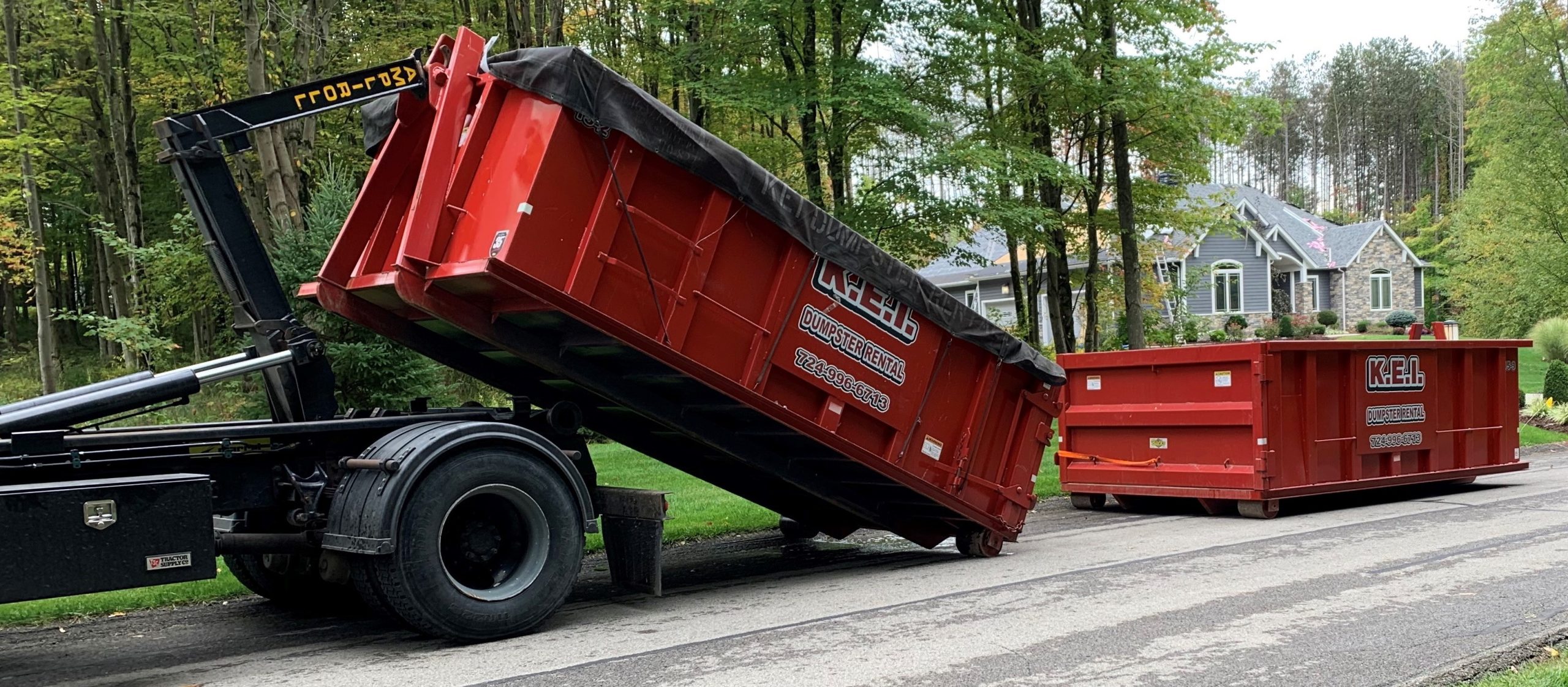 Residential Roll-Off Dumpster Rentals, Butler PA
Residential customers undertaking DIY renovation projects or decluttering their homes and properties can request roll-off dumpster rentals in Butler and surrounding counties with KEI.
We offer 4 different dumpster sizes to accommodate your needs. You can use them for clean-outs, construction, junk removal, home remodeling, or yard clean-up. Get rid of unwanted garbage, trash, and debris quickly. KEI also offers flatbed hauling services for moving equipment.
Some areas of Butler County require permits for roll-off dumpsters. You can check with the Public Works Department to determine if your location is on the list.

How Roll-Off Dumpster Rentals Work
KEI makes roll-off dumpster rentals easy! Our team of removal specialists helps you choose the right fit for your needs. We make the process painless and convenient.
Here's how it works:
Choose a size and delivery date/location. Let us know what size you need and where you want it delivered. Call us at 724-996-6713 to make arrangements.
Prepare for dumpster delivery. We recommend removing any low-hanging obstacles, materials, or vehicles to make room for your roll-off dumpster rental.
Load your dumpster. We recommend putting large items in the dumpster first to keep space and weight distribution even. Make sure you don't exceed your weight limit to prevent overage fees.
Schedule pickup. When finished, schedule a pickup for your roll-off dumpster. Make the dumpster accessible and ensure debris is not piled higher than the sidewalls.
Contact us if you have any questions, or visit our FAQ page to explore commonly-asked questions from our clients.
KEI Dumpster Rental's team is here to help. From your first call to final pickup, we provide the best customer service in the roll-off dumpster rental services industry.
Choose from our flexible and affordable dumpster rental sizes and delivery options to find the perfect fit for your project needs.
Have a question? Give us a call at 724-996-6713. We're always happy to assist!