Our roll off dumpster sizes are below. We will help you find the right fit for your clean up project.
PLEASE NOTE: Our dumpsters are 4' high so you can load from all sides. This is not an industry standard. Many are much higher. Don't get caught needing a ladder to load your dumpster.
10 Yard Dumpsters are 12' long, 4' high, 8′ wide. Holds 2 ton. Good for attic, basement cleanout, small bathroom or kitchen remodeling, landscape debris.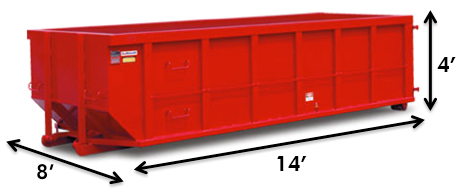 15 Yard Dumpsters are 14' long, 4' high, 8' wide. Holds 2.5 ton. Good for attic and basement clean out, apartment cleanout, kitchen cabinets, carpet, decluttering bedrooms, yard debris.

20 Yard Dumpsters 16' long, 4' high, 8' wide. Holds 3 ton. Good for new construction, large house remodeling, house cleanouts, industrial sites
*Standard Dumpster Rental time is 7 days unless other arrangements are made.