Construction projects, regardless of their scale, can generate a substantial amount of waste. Effective waste management is more than a matter of convenience. It helps you stay on budget and finish your project successfully.
Construction dumpsters play a significant role in helping you manage project debris and other unwanted items. However, while these large roll-off dumpsters make waste disposal more convenient, there are several pitfalls that can turn what should be a seamless process into an expensive disaster.
To get the most value out of your dumpster rental, avoid these 7 costly mistakes.
1 – Choosing the Wrong Dumpster Size
Choosing the wrong-sized construction dumpsters can complicate your project in several ways. One of the consequences of picking a dumpster that's too small is that you must schedule more frequent pickups for emptying the container and returning it. Doing so wastes time and can cause project delays.
On the other hand, choosing a roll-off dumpster that's larger than needed means you're paying for unused space. You'll incur unnecessary rental fees, which can significantly impact your project budget.
To avoid sizing challenges, carefully assess your project's waste disposal needs. Include the types of materials for disposal and the estimated volume of waste generated.
When in doubt, consult with your dumpster rental service provider. They can help you determine the most efficient size to meet your needs.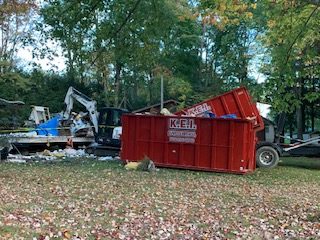 2 – Inadequate Planning
Inadequate planning for waste disposal from a construction project can significantly impact your overall budget and your decisions regarding the rental of construction dumpsters.
Without a well-thought-out waste management plan, you may encounter unexpected costs. Those extra expenses include additional dumpster rental fees, overtime labor costs, and disposal fees for waste that wasn't properly managed.
To mitigate these impacts and maintain control over your project budget, it's essential to:
Develop a comprehensive waste management plan that outlines waste reduction strategies, recycling practices, and waste disposal methods.
Accurately estimate the volume and types of debris your project will generate to choose the right dumpster size.
Work with a reputable dumpster rental service that can advise you on the most cost-effective and efficient dumpster options for your project.
Continuously monitor and adapt your plan as the project progresses to address any unforeseen issues and maintain cost control.
3 – Ignoring Local Regulations
Ignoring local regulations when it comes to construction dumpster rentals can negatively impact your construction project. Local regulations are in place to ensure safety, protect the environment, and maintain the integrity of the community.
Some of the consequences of disregarding these rules include:
Fines and penalties. Municipalities and local authorities can impose fines and penalties for non-compliance with dumpster-related regulations. these fines can vary in severity and can significantly increase your projected costs.
Project delays. Non-compliance may lead to legal disputes or the need to rectify violations, which can result in costly project delays.
Increased liability. Failing to follow the rules can increase your liability in case of accidents, injuries, or property damage related to the dumpster.
Loss of permits. Local regulations often require permits for dumpster placement. Ignoring the guidelines can result in permit revocation, requiring you to remove the dumpster and apply for a new permit. The delays can disrupt your project and incur additional costs.
To avoid these negative impacts, research your local regulations before renting construction dumpsters. Obtain all necessary permits and follow proper waste disposal rules. If you have someone managing the construction project on your behalf, perform regular compliance checks and address any issues promptly.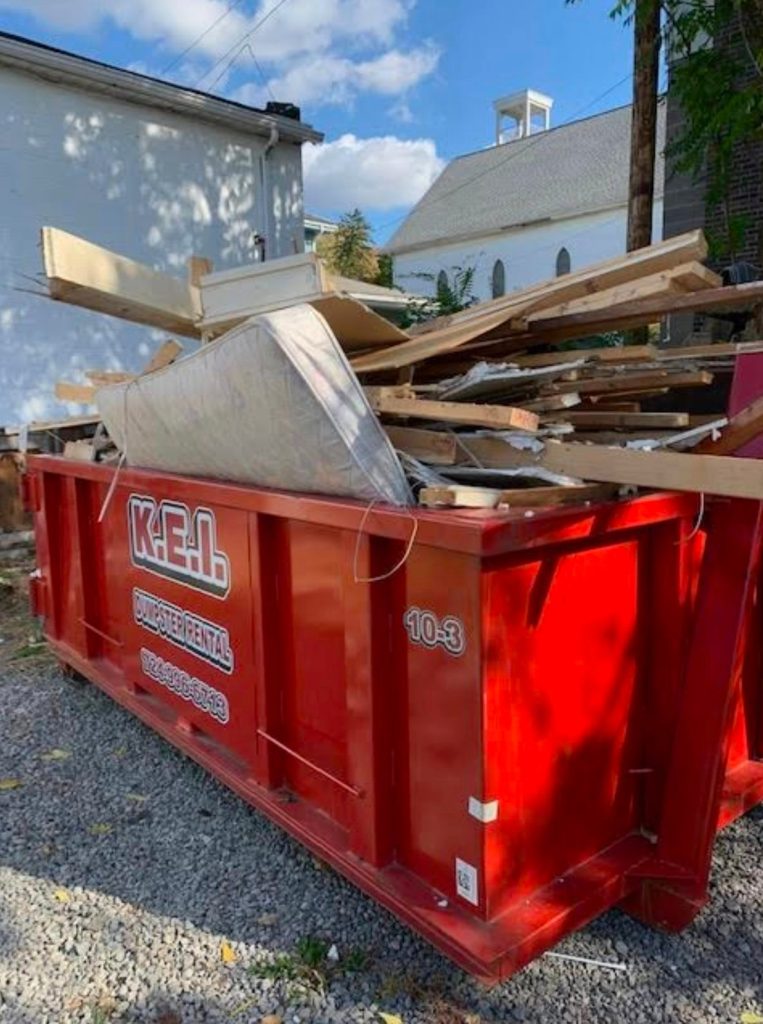 4 – Overloading the Dumpster
Overloading is a common issue for dumpster rental companies. Despite clear rules about fill lines for safety purposes, some customers push the limits in how much waste they try to stuff into their construction dumpsters.
An overloaded dumpster poses safety hazards for all involved in your project. They can become unstable, making them more likely to tip over or spill their contents during loading, unloading, and transporting. Accidents of this nature can result in property damage, leaving you on the hook for expensive repairs.
To avoid overfilling your construction dumpster, follow these suggestions:
Monitor the dumpster. Regularly check the dumpster's fill level to ensure it doesn't exceed its capacity. Implement procedures to prevent overloading.
Train your team. Educate your construction crew on proper waste disposal and loading techniques to prevent overloading.
Work with a reliable provider. Choose a reputable dumpster rental service that can offer guidance on selecting the correct size dumpster and provide prompt waste removal services.
5 – Mismanagement of Hazardous Materials
One of the costliest mistakes you can make with construction dumpsters is mishandling hazardous materials. Not only can bad decisions affect the construction company, but they also can impact the dumpster rental service you choose.
Mismanaging hazardous materials can cause accidents and injuries on the construction site, putting workers, contractors, and the public at risk.
Ignoring regulations about what can and cannot be placed in a construction dumpster can lead to regulatory violations that result in steep fines and even the halting of your construction project by local or state authorities.
To avoid expensive errors over hazardous materials:
Conduct a thorough assessment to identify and separate hazardous materials from regular construction waste.
Comply with all applicable laws and regulations regarding the handling, transportation, and disposal of hazardous materials.
Work with specialized hazardous waste removal services to ensure these materials are safely removed from your construction site and disposed of properly.
Avoid costly mistakes when renting construction dumpsters
There's no doubt that construction dumpsters make projects of all sizes easier to manage safely. Partnering with a reputable dumpster rental agency plays a pivotal role in helping you avoid costly mistakes.
They can assist with proper dumpster sizing, local regulations, and waste management expertise that helps you minimize waste disposal costs and reduce the environmental impact of your construction project.