Local dumpsters are a game changer when tackling home renovations, construction projects, or decluttering. They provide a convenient and efficient way to dispose of debris and other waste.
There's more to renting a roll-off dumpster than choosing the dumpster rental company and placing your order. To make the most of your on-site disposal solution, you must understand the dos and don'ts of local dumpsters.
In our latest blog, we explore the most common dos and don'ts to help you get the most out of your dumpster rental.
DO: Choose an Accessible Delivery Location
One of the most important decisions you'll make about your roll-off dumpster rental is where to have it delivered. Most residential customers ask for placement in their driveways. For in-town customers in places like Butler or Slippery Rock, curbside delivery may be necessary.
Depending on the location, commercial customers – especially construction contractors – also may need to place dumpsters at the curb.
Wherever you've selected your dumpster to go, make sure the rental company's trucks can easily access it. Avoid narrow or obstructed pathways that impede delivery or pickup.
Discuss any issues you may have with the rental company ahead of time. Most rental services for local dumpsters can suggest solutions if you need a dumpster but are tight on space.
DO: Follow Local and State Environmental Regulations
Do follow local and state environmental regulations for disposing of debris and other waste. Local protocols can impact how waste is handled and disposed of by dumpster rental companies. They also dictate which items you can place in a dumpster, and which must be disposed of in other manner to protect the environment.
Some of the items prohibited from local dumpsters in Butler and surrounding counties include:
Batteries
E-waste (computers, monitors, printers)
Freon-containing appliances
Gasoline, oil, and other hazardous liquids
Paints
Televisions
Tires
Ignoring environmental guidelines can result in a hefty fine. If you're not sure if an item is prohibited, check with the dumpster rental company before tossing it.
DO: Prioritize Safety
Prioritize safety when using a roll-off dumpster. Never allow children or unauthorized people to access your rental dumpster. Don't climb in or on the dumpster. Some local dumpsters have rear access panels that allow you to open them and load heavy items with a dolly instead of tossing them in haphazardly.
When loading your dumpster, follow these safety guidelines for the best results:
Distribute the weight evenly across the dumpster.
Load bulky, heavy items first, then place smaller items on top.
Secure loose items so they don't fall out of the dumpster during loading or transport.
Stick to the weight limits for your dumpster size to avoid overloading it.
Use personal protective equipment (PPE) if you're handling construction debris or other waste materials.
DO: Check Permit Requirements
Depending on where you're planning to place your roll-off dumpster rental, you may need a permit from the local authorities.
One of the most common reasons for obtaining a local permit is you plan to put your dumpster in a location that blocks public access, such as on a sidewalk or in a street. The City of Butler and Butler Township are two local municipalities that require permits.
If you're unsure whether you need one, check with the dumpster rental company first. Many know which service areas require permits.
You also can check with your local municipal government office to verify if permitting is necessary.
DO: Understand Rental Terms and Costs
Before you choose local dumpsters from a rental company, carefully read the rental agreement. Make sure you understand the terms and pricing structure before signing on the dotted line.
Ask about any additional fees for exceeding weight limits. Some companies allow you to extend the rental period on request, so verify whether that's a possibility if you think you may need extra time.
Obtain a complete breakdown of all costs upfront. Reputable roll-off dumpster rental companies are happy to provide you with this information.
DON'T: Assume Recycling is Included
Local dumpsters typically focus on debris and waste disposal, not recycling efforts. If you have recyclable materials, separate them from the other items you plan to toss into the dumpster.
Recycling helps reduce waste, conserves resources, and minimizes your impact on the environment. Many materials are more appropriate for recycling than the local dump.
Some of the materials you should consider recycling include:
Aluminum and steel cans are easily recycled into new products using those materials.
Batteries contain harmful chemicals that prevent most dumpster rental companies from accepting them.
Cardboard and paperboard can go into your recycling bin for reprocessing.
Electronics are prohibited from most local dumpsters.
Glass containers never lose quality when recycled.
Plastic bottles and other containers marked with recycling symbols can be reprocessed.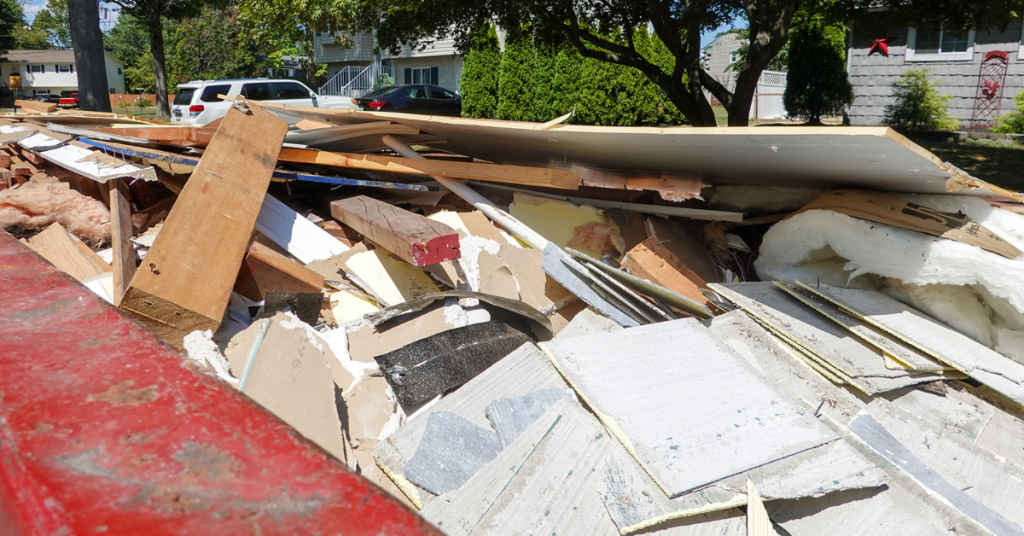 DON'T: Overload the Dumpster
Stick to the weight limit your dumpster rental company assigns to the dumpster you're using. Those restrictions are in place to protect you, the rental service employees, and other people on the roadways during the transport of a full dumpster.
Most local dumpsters have fill lines on the inside. You can use them as a guide for how full to make your dumpster. As a rule, if you have materials sticking out over the top of the dumpster, it's too full to safely transport.
Overloading your dumpster can result in additional charges from your dumpster rental company. They pay by the total weight when unloading a full dumpster at the local landfill. If they end up paying more because you overfilled your dumpster, they're going to pass those charges on to you.
DON'T: Restrict Access
When placing a roll-off dumpster on your property or in a public area, make sure it doesn't block access to driveways, walkways, or roadways. One of the quickest ways to get fined by your local municipality is to create an obstruction.
It poses a health and safety hazard if your rental dumpster prevents emergency services from accessing a neighborhood or individual property. Most dumpster rental companies won't leave a dumpster in a place it restricts access without proof you have permission from your local authorities.
DON'T: Dispose of Prohibited Items
Most dumpster rental companies provide customers with a list of prohibited items. Chemicals, electronics, and other hazardous materials top the list.
If you're caught tossing these and other banned items into local dumpsters, you can find yourself with a hefty bill for their proper disposal. Your local authorities also may issue steep fines.
As a rule, if you're unsure whether something is appropriate for the dumpster, check with your rental company first.
DON'T: Forget to Communicate Changes
Sometimes you need to alter your rental dumpster size, dates for use, or other terms and conditions. The sooner you communicate your needs to the dumpster rental company, the more likely they'll be able to meet them.
Failure to notify companies that rent local dumpsters in a timely manner can end up costing you additional fees and overage charges.
Schedule Local Dumpsters for Your Next Project
Without a doubt, one of the biggest advantages of local dumpsters is their convenience. Harness the benefits while avoiding potential pitfalls when you follow the dos and don'ts in this blog.
Avoid overloading, improper disposal, and neglecting safety measures, and communicate your needs clearly to the dumpster rental company for the best experience.