Dumpster rental services and junk removal services may sound similar, but there are key differences between them. Both are popular options. However, one may be better suited to your waste management needs than the other.
Choosing the right option depends on factors such as project size, duration, and budget. In this blog, we'll explore some of the common questions asked about both services, including:
What are dumpster rental services?
Dumpster rental services provide roll-off dumpsters of various sizes for commercial and residential waste management assistance. You can use them for garage or basement clean-outs or hauling away construction debris from a remodeling project.
Roll-off dumpsters are larger than the standard dumpsters found at apartment complexes and local businesses. Their rectangular shape and open tops make them convenient for tossing unwanted items without hauling them to the dump yourself.
Most roll-off dumpster rental companies offer door-to-door delivery of the size of bin(s) requested. KEI Dumpster Rental is among the companies that deliver on-site. Our crew returns to collect the full dumpster.

What are the pros and cons of using dumpster rental services?
The number one reason most people use dumpster rental services is convenience. You can choose the size of roll-off dumpster that best accommodates your needs and have it delivered to any location.
Having a dumpster on site allows you to dispose of waste at your own pace. It also gives you control over the loading process, organizing items as needed to ensure you don't unintentionally toss out anything important.
Other benefits include:
Flexible rental periods. Most dumpster rental services let you choose between short-term and long-term options. KEI's standard rental is 7 days. If you finish before the 7 days are up, just give us a call and we'll remove it.
Cost-effective. Renting a dumpster is more affordable than other waste removal options. It eliminates the need for multiple trips to the landfill or paying for on-site workers to load up the junk for you.
Suitable for large projects. If you're undertaking a project that generates a lot of debris or waste, dumpster rental services are the best option. Construction sites, home renovation projects, and large-scale clean-outs benefit from having a dumpster on-site to efficiently manage the waste.
Environmentally-friendly. Dumpster rental services follow local regulations for disposing of debris and unwanted junk to reduce the environmental impact.
There are a few disadvantages to renting a roll-off dumpster. One of the biggest reasons people shy away from them is the physical labor required for loading waste themselves. Anyone with physical limitations may find it difficult to toss bulky items into the bin.
The other consideration is space. You must have adequate space for an on-site dumpster to prevent it from blocking access to public spaces like sidewalks and streets.
What materials can you put in a dumpster?
Rental dumpsters accommodate a variety of debris and waste. Among the most popular uses for them are commercial or residential clean-outs. Safely toss in household junk, construction debris, large furniture – even yard waste.
Items you should avoid putting in your roll-off dumpster rental include:
Batteries.
E-waste items (computers, monitors, printers).
Freon-containing appliances.
Gasoline, oil, and other hazardous liquids.
Hazardous waste.
Items with corrosive/explosive components.
Paints.
Televisions.
Tires.
If you're not sure whether an item is suitable for your dumpster, reach out to the dumpster rental company to ask.

How are dumpster rental services provided?
Dumpster rental services are provided by companies that specialize in on-site waste management solutions. Choosing the correct size dumpster to meet your needs is important. Consult with a dumpster rental services provider who can assist if you're confused about which size you need.
Once you've selected the size dumpster you need, pick a delivery date and location. You'll need enough room to accommodate the dumpster, plus allow the delivery truck ample room to load and unload the bin.
Dumpster rental services pick up the full bin per the agreed-upon schedule. Never overfill your dumpster. Make sure all materials are below the top of the side walls for safe transport. You don't want any of the debris flying out of the dumpster during hauling, which compromises the safety of the driver and others around them.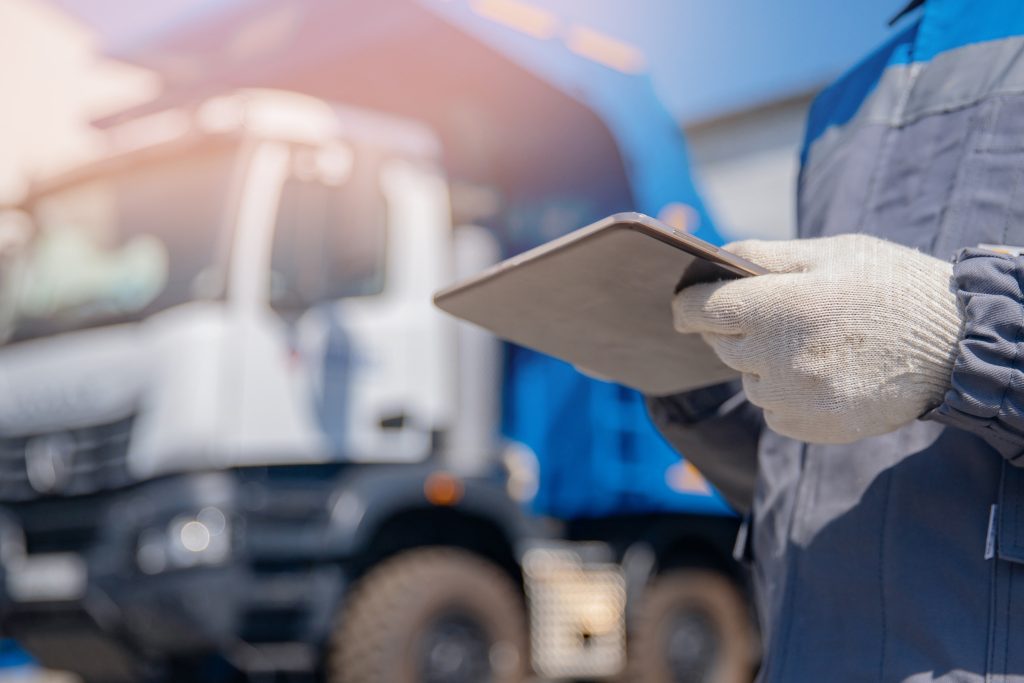 What are junk removal services?
Junk removal services provide one-time assistance for the immediate removal of unwanted junk. Large appliances, furniture, and other heavy objects are difficult for some people to move on their own. Renting a roll-off dumpster may not be suitable in these instances unless the person has help getting their items into the bin.
People who prefer a hands-off approach or lack the resources to remove the junk themselves may instead turn to a junk removal service provider.
What are the pros and cons of using junk removal services?
One of the biggest benefits of a junk removal service is that someone else does the work for you. If you have limited mobility or other physical or time constraints that prevent you from removing junk yourself, hiring a junk removal service is a reasonable alternative.
Another advantage of using a junk removal service is it saves you time. If you've been putting off decluttering a space because of time constraints, paying someone else to do the work is a plus.
One disadvantage to junk removal services is the cost. Because you've hired labor to do the loading work for you, the price can be higher than having a roll-off dumpster on-site.
Labor isn't the only factor that affects pricing. Most junk removal services charge by the amount of junk you're removing. That might be OK if you have one or two items to dispose of, but it can get pricey for clean-outs or construction projects.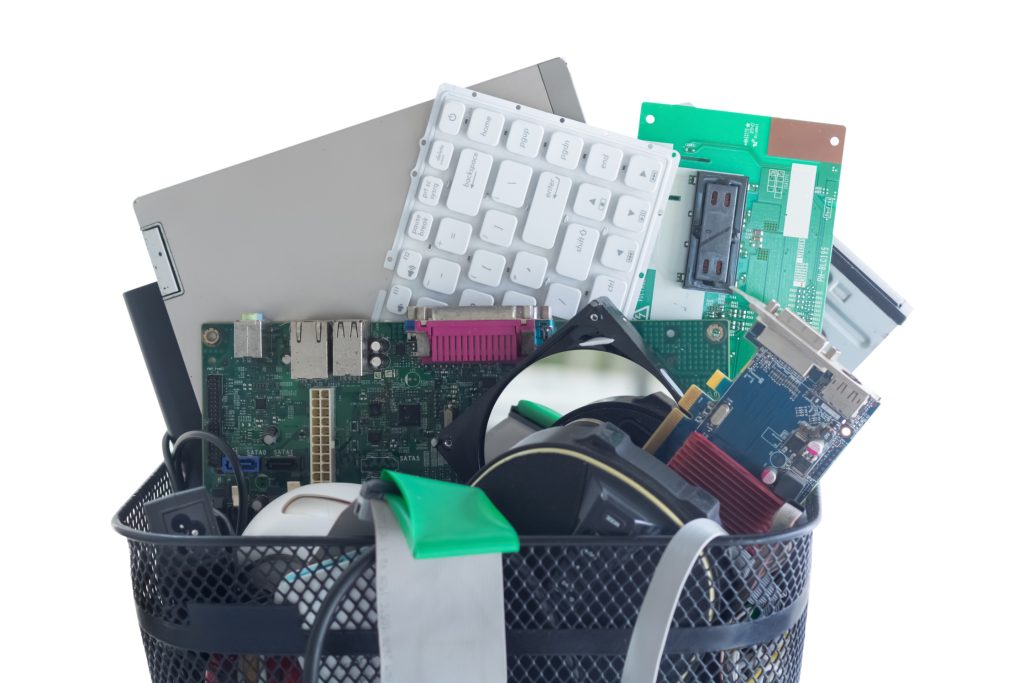 What materials do junk removal services take?
Junk removal services take most of the same waste materials as dumpster rental services companies. Additionally, many haul away e-waste products like old computers or TVs and either recycle them or dispose of them according to local, state, and federal guidelines to protect the environment.
Like dumpster rental companies, junk removal services have limits on what they'll remove from your commercial or residential property. Among the items they may refuse:
Ammunition
Asbestos
Fluorescent light bulbs
Fuel
Household cleaners
Medical waste
Oils
Pharmaceuticals
Paint
Pesticides
Pressurized containers
How are junk removal services provided?
Junk removal services are one-day projects. Usually, you schedule a time for pick up and their workers arrive, remove the designated items, and haul them from the scene.
Most junk removal companies use small trucks and a 2-person crew to collect items from your commercial or residential property. The less stuff you must move, the smoother the process goes.
If you have an ongoing project that produces debris or other waste, using a roll-off dumpster rental company is a better fit. You can keep the dumpster as long as needed.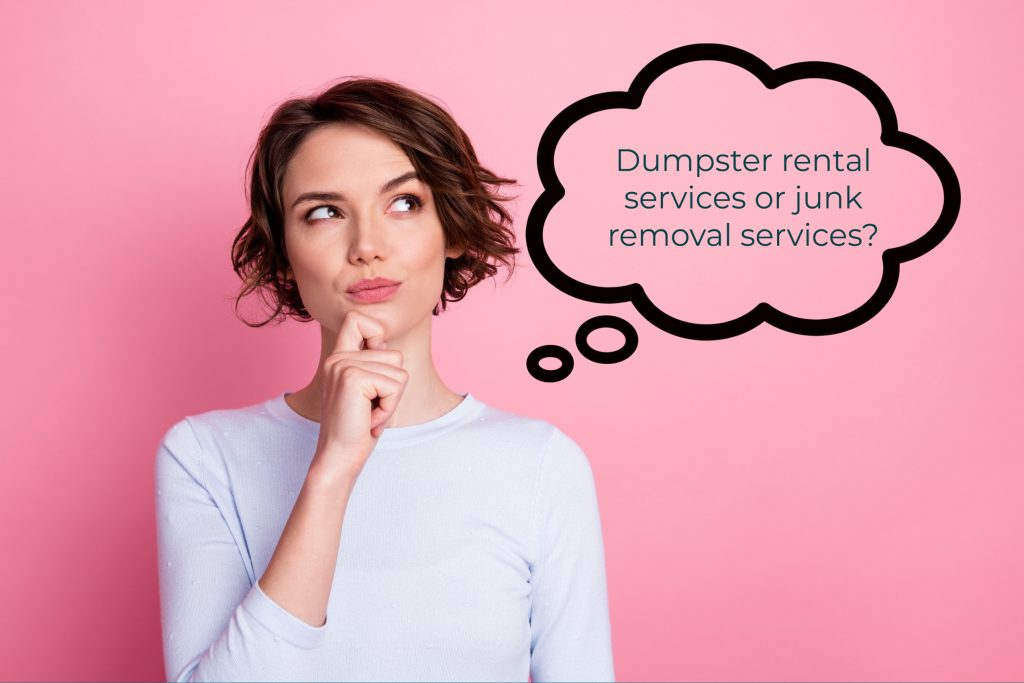 How do you choose the right option?
Choosing between dumpster rental services and a junk hauler doesn't have to be difficult when you consider several factors in your decision. Your budget, labor and physical capabilities, and project size and duration all play a role in making an informed choice.
Budget constraints
For most people, budget plays a significant role in choosing between on-site dumpster rental services and a one-day junk removal service. Dumpster rental services involve a flat fee, which is more cost-effective for long-term projects. Your estimate includes delivery, pick-up, and disposal fees so you're not surprised by unexpected charges.
Junk removal services charge based on the volume or weight of items. Add-on costs vary, which can make it difficult to predict your total costs for using this option.
Labor and physical capabilities
Dumpster rental services require you to handle the physical labor involved with loading your waste. If you have physical limitations or lack the time required to do the work yourself, using a junk removal service may be a better fit.
Project size and duration
Large projects that generate a significant amount of waste over an extended period are best served by a roll-off dumpster from a local dumpster rental service. Commercial and residential renovations or prolonged clean-outs make renting a dumpster more suitable for the task.
If you have one-time clean-outs or smaller projects like large furniture removal, a junk hauler is a better fit.
Making the right choice
Knowing the differences and similarities between dumpster rental services and junk removal services helps you make the right choice for the job at hand. Make sure you weigh the pros and cons of each type of waste removal. Don't forget to consider your budget, labor and physical capabilities, and project size and duration.
If you're still unsure which model best fits your needs, talk with the team at KEI Dumpster Rental. We'll review what items you need to remove from your site and help you choose which service to use.