Dumpster sizes are not something you think about until you find you need to rent one for a construction project, renovation, or decluttering.
You don't want to get one that's too small to meet your needs because you'll end up spending more money carting the excess items back and forth to the local dump yourself.
Getting one that's too large wastes money in a different way.
Efficient waste disposal saves you time and money and ensures a hassle-free project. In this comprehensive guide, we provide a step-by-step guide on how to right-size your roll-off dumpster rental to get the most bang for your buck.
In it, we discuss:
What is a roll-off dumpster?
A roll-off dumpster is a large, rectangular container designed for the removal of excess waste from clean-outs, construction projects, and renovations. They're commonly used by businesses and individuals who have a significant amount of debris and other waste to remove from a site safely and efficiently.
Dumpster sizes vary depending on which dumpster rental service you choose. Most range from 10 to 40 cubic yards. They come with an open top, making it easier to toss in construction materials, debris, furniture, and other large items.
Advantages of roll-off dumpsters
One of the key benefits of roll-off dumpsters is their versatility. They accommodate different types of rubbish, including construction debris, household items, and yard waste.
Dumpster rental services deliver your selected dumpster sizes direct to your doorstep (or wherever location you request) and pick them up when you're finished.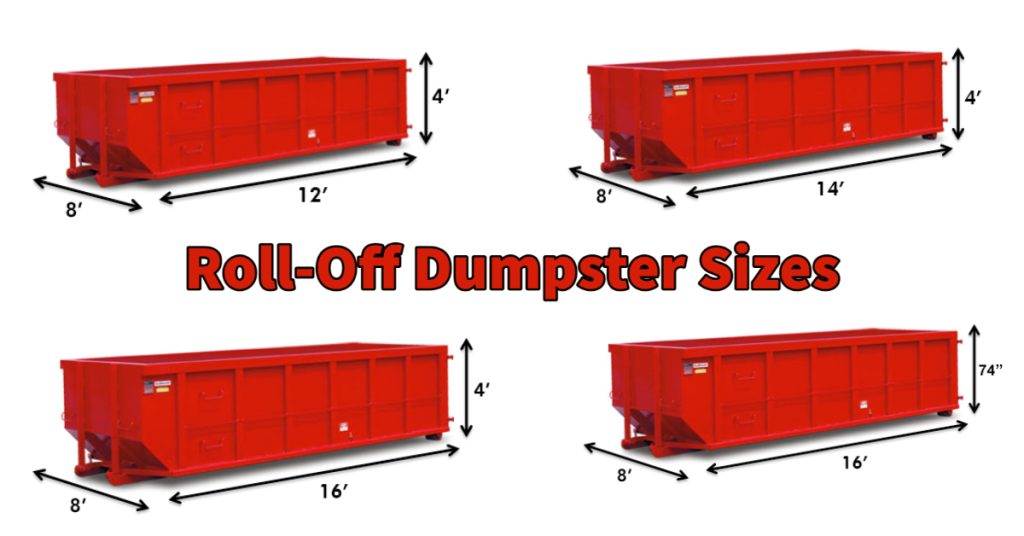 What are the different dumpster sizes?
Available dumpster sizes depend on the roll-off dumpster rental company you choose. At KEI, we offer four convenient sizes designed to accommodate a variety of disposal needs.
10-yard containers are 12 feet long, 4 feet high, and 8 feet wide. They hold up to 2 tons of material and are ideal for attic or basement cleanouts, small remodeling projects, and landscape debris.
15-yard containers are 14 feet long, 4 feet high, and 8 feet wide. They hold 2.5 tons of material and are ideal for decluttering, apartment cleanouts, small remodeling or construction projects, and yard debris.
20-yard containers are 16 feet long, 4 feet high, and 8 feet wide. They hold 3 tons of material and are ideal for new construction, large residential remodeling projects, and industrial sites.
25-yard containers are 16 feet long, 6.16 feet high, and 8 feet wide. They hold 3.5 tons of material and work well for large construction sites, large house remodeling projects, and industrial sites.
If you're not sure what size you need, talk to one of the team members at KEI when ordering. They can recommend the perfect dumpster sizes to meet your needs.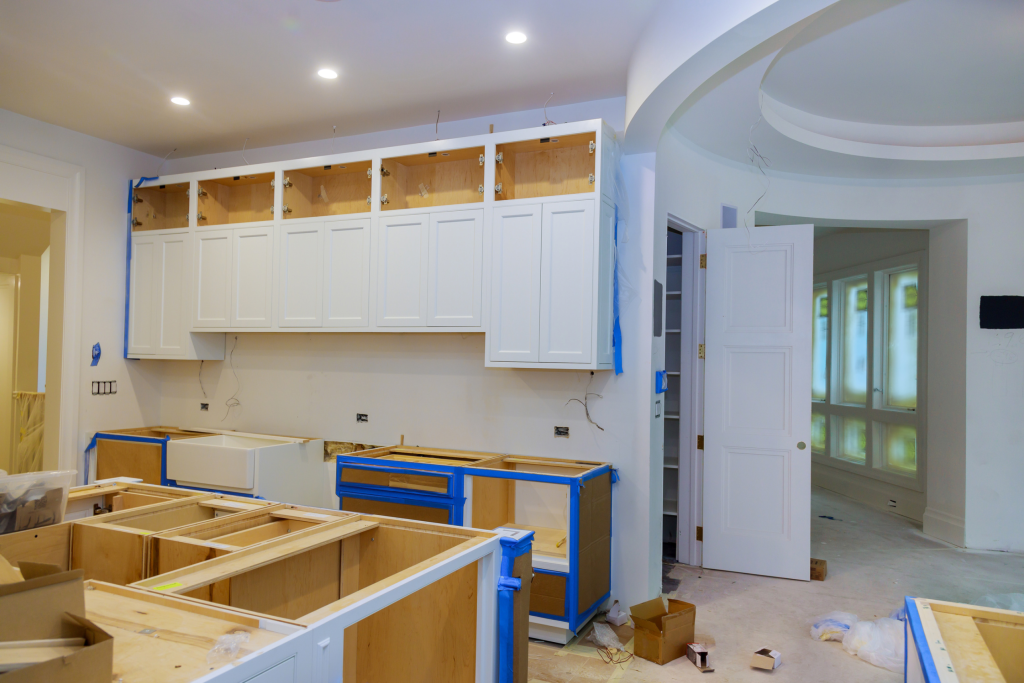 What factors should you consider when choosing dumpster sizes?
You don't have to play guessing games to get the right size dumpster for your project. When choosing a roll-off dumpster size, consider the following factors to ensure you select the appropriate option.
Project type and size
Size matters. At least when it comes to the dumpster you choose for your project. Consider what you plan to do with the dumpster once you have it. Are you using it for a whole-house cleanout or a large construction project? If so, a 20- or 25-yard dumpster is your best bet.


Amount and type of waste
Estimate the volume of waste your project might produce, keeping in mind that different materials have different densities. Construction debris, for example, is bulky and heavy. It may require a larger dumpster size.


Available space
How much space do you have on-site for the dumpster? Is there ample room for the hydraulic truck that delivers and retrieves it? Make sure you have enough room to accommodate both before ordering. Never block a public space like a sidewalk or roadway. Also, keep in mind that some municipalities require a permit for dumpsters if they may encroach on a public space.


Project duration
How long do you expect your project to last? If you're doing a yard cleanup or decluttering, you probably can get by with a dumpster for just a few days. Small renovation projects might require a longer-term rental.


Weight restrictions
Dumpsters come with weight restrictions. Make sure you don't overload them because it makes it unsafe for the dumpster rental company to haul them away. If you think you don't have enough room to accommodate all your debris or other waste, reach out to the rental company and arrange for a second dumpster or to have the current one emptied and returned for further use.


Budget considerations
Larger dumpsters cost more. Make sure you balance your budget with the appropriate dumpster size to ensure cost-effectiveness without compromising on waste management efficiency.
What are the advantages and disadvantages of different dumpster sizes?
Different dumpster sizes have their advantages and disadvantages depending on your specific needs and the requirements of your project. Let's break down the pros and cons by dumpster size so you have a complete picture before choosing the one that works best for you.
Small Dumpster Sizes – 10- to 15-yards
Small dumpster sizes accommodate most small clean-out projects or remodeling projects for your home or business.
Among the advantages:
Cost-effectiveness. Smaller dumpsters generally cost less than their larger counterparts.
Space-saving. Small dumpsters work best for projects with limited space. They easily fit into driveways and smaller areas.
Among the disadvantages:
Limited capacity. One of the reasons smaller dumpsters fit into smaller spaces – a plus – is because they have lower capacity. They're not recommended for projects that might produce significant waste.
Frequent disposal. If you choose a smaller size accidentally, you might need to have it changed out more frequently if you have more waste than it can accommodate. This costs you more money in the long run.
Medium dumpster sizes – 20- to 25-yards
Medium dumpster sizes are best suited to larger cleanouts, new construction, and some industrial sites.
Among the advantages:
Suitable for various materials. They can handle different types of waste, including construction debris, household items, and bulky furniture.
Versatile. They strike a balance between capacity and maneuverability, accommodating a larger range of projects, including renovations and construction.
Among the disadvantages:
Higher rental costs. Compared with smaller dumpsters, they cost more due to increased capacity.
Space requirements. They require more space for delivery, placement, and pick-up, making them unsuitable for some sites.
Large dumpster sizes – 30- to 40-yards
Most residential customers don't require a large dumpster size unless they are undertaking a whole-house renovation project. Commercial customers may need them for remodeling or construction. Industrial sites may need them due to the sheer volume of debris they produce.
Among their advantages:
Efficiency. Large dumpsters make quick work of heavy materials like concrete, bricks, and roofing materials.
Reduced pick-up frequency. With their larger capacity, they can hold a significant amount of waste, reducing the need for frequent change-outs with the dumpster rental service.
Among their disadvantages:
Higher rental costs. Large dumpsters aren't cheap. Unless you truly need the extra size and durability they provide, it's probably not worth the expense.
Placement challenges. You'll need ample space to accommodate a dumpster this large, making them unsuitable for tight spaces or properties with limited access to the delivery truck.
What are some tips for optimizing roll-off dumpster space?
Optimizing the space in a roll-off dumpster helps you maximize its capacity and make the most of your waste management efforts.
Consider the following factors to help you get the most out of the dumpster size you choose for your project.
Load heavy materials first
Loading heavy materials first ensures they settle and make room for other debris and waste. It also helps maintain stability during transport and ensures compliance with weight limits or regulations.


Break down large items
Disassemble large items whenever possible or break them into smaller pieces. Doing so creates more space and allows for better use of the available dumpster capacity.


Compact and flatten materials
Compacting items like cardboard boxes, plastic containers, and other compressible materials significantly reduces the volume they occupy inside the dumpster.
Dumpster sizes done right
Understanding dumpster sizes helps you get the most out of your roll-off dumpster rental. Considering the advantages and disadvantages of each size, then matching their capacity to your project, is the most effective way to ensure a positive experience.
Still not sure what size to select? Give us a call at 724-996-6713 and a member of our team is happy to assist!