Dumpster rental services come in handy when you're cleaning out your garage or have a renovation project in the works. Even commercial construction sites need roll-off dumpsters to dispose of debris and other waste safely and efficiently.
Running back and forth to the dump yourself wastes time and money. Dumpster rental services are the perfect solution for disposing of large amounts of debris or garbage.
In this blog, we'll provide everything you need to know before you schedule a roll-off dumpster delivery. You'll learn:
What are dumpster rental services?
Dumpster rental services provide you with a large container – usually made of metal – you can fill with debris and other types of waste materials. Most roll-off dumpster rental companies offer door-to-door delivery services for their bins.
Unlike standard dumpsters you find at apartment complexes and local businesses, roll-off dumpsters have a rectangular shape, include wheels for easy movement, and come with open tops so you can easily dispose of debris and other trash items.
KEI Dumpster Rental is among the companies that deliver on-site and retrieve the rental dumpster once it's full.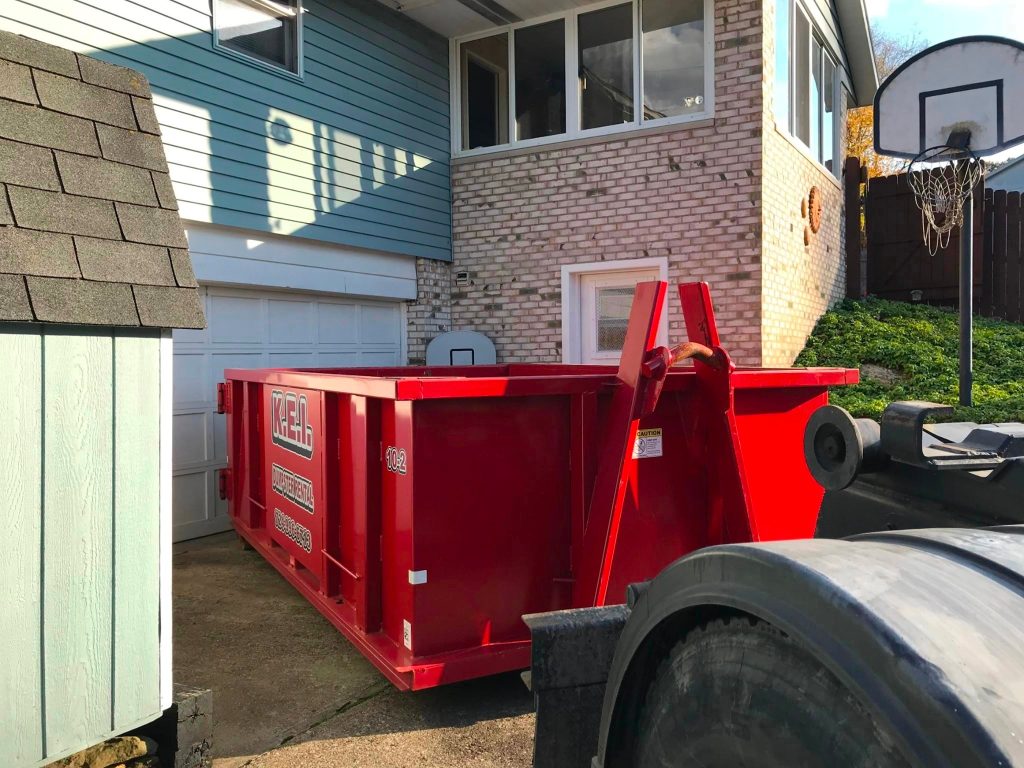 How do dumpster rental services work?
Renting a dumpster is easy when you follow a few simple steps.
First, you need to determine the size of the roll-off dumpster you need to get the job done. Dumpster sizes vary, so it's important you estimate the amount of waste you need to dispose of before you place your dumpster order.
If you're having trouble deciding what size is best, talk with the roll-off dumpster rental company. They can help you decide based on the reason you need the dumpster.
Second, choose a delivery date and location. Make sure you leave enough room to accommodate the size of the dumpster before requesting a drop-off point. The company then drops off your dumpster at the location on the date you requested service.
Third, fill the dumpster to capacity. Never over-fill the dumpster. All materials placed inside should be below the top of the side walls for safe transport. Make sure you don't toss anything in the dumpster that's prohibited (we talk about that later in this blog).
Last, schedule pickup of the dumpster when finished. Some companies like KEI automatically retrieve rental dumpsters after 7 days. If you want it removed sooner, call to request an earlier pickup.
What are the benefits of using dumpster rental services?
There are several benefits to using dumpster rental services for your residential or commercial waste disposal needs.
It's convenient. No one has time to run back and forth to a landfill or other waste disposal site. Renting a roll-off dumpster lets you easily toss out items from garage clean-ups, renovation projects, or construction projects more efficiently.
It's cost-effective. Disposing of a lot of waste can get expensive if you try to do it through your curbside municipal waste collection service or haul it to a dump yourself. With dumpster rental services, you know the cost in advance and can plan accordingly.
It's environmentally friendly. Using a roll-off dumpster ensures the debris and other waste you're disposing of end up in the right place. Dumpster rental companies must follow strict guidelines about where they send the materials they collect from customers.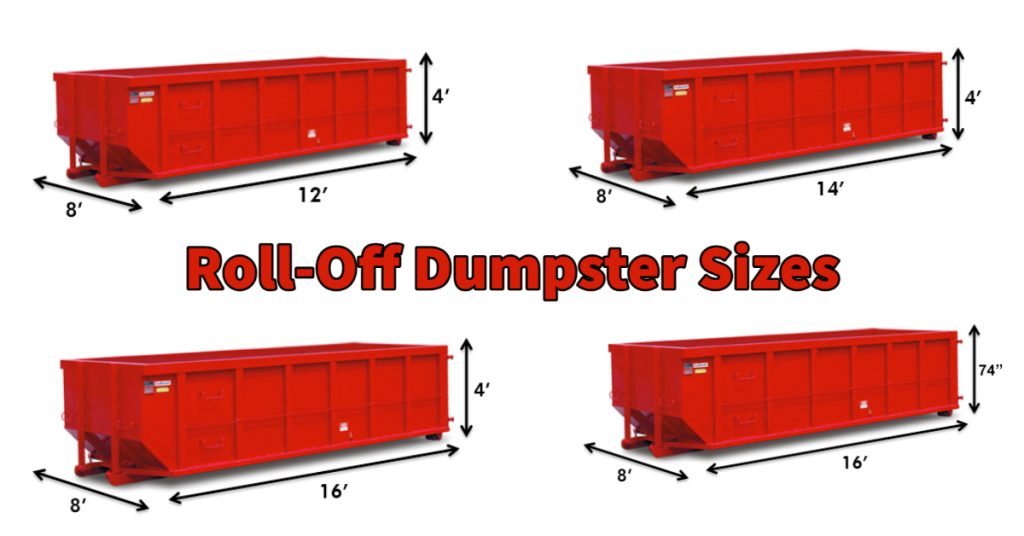 What are the different sizes of dumpsters?
Most roll-off dumpster rental services carry several shapes and sizes of dumpsters to accommodate most needs. The smallest size dumpster is ideal for cleanouts, concrete disposal, and light demolition projects.
Choosing the right size of roll-off dumpster is important when placing your order. You don't want to waste money by getting one that's larger than you need. For instance, if you're remodeling your bathroom, you probably don't need a 25-yard dumpster.
Some companies carry dumpsters larger than 25 yards. A 40-yard dumpster is the largest size you can rent in most locations. However, they are most suitable for accommodating a complete building demolition.
Choosing the right size roll-off dumpster
Here's how much debris and other waste you can fit into the 4 most common sizes of roll-off dumpster to help you make the right choice:
10-yard containers are 12 feet long, 4 feet high, 8 feet wide, and can hold approximately 2 tons of material.
15-yard containers are 14 feet long, 4 feet high, 8 feet wide, and can hold approximately 2.5 tons of material.
20-yard containers are 16 feet long, 4 feet high, 8 feet wide, and can hold approximately 3 tons of material.
25-yard containers are 16 feet long, 6.16 feet high, 8 feet wide, and can hold approximately 3.5 tons of material.
If you're not sure what size dumpster you need, consult with the dumpster rental company to find the perfect fit.
What should you consider when renting a dumpster?
There are several factors to consider when renting a roll-off dumpster. Size is always the most important. If you get the wrong capacity, you can end up paying extra for additional trips to dispose of your waste.
You also don't want to rent a dumpster that's too large because you'll pay for more space than you need.
Lastly, think about the duration of your project and how long you might need a dumpster. KEI Dumpster Rental has a standard 7-day service term. Unless clients request pickup sooner, our trucks automatically come back 7 days after the drop-off date to retrieve the full dumpster.
If you need to rent a dumpster for longer than a week, let the dumpster rental company know when you call to place your order. Most can accommodate your needs for extended service.
What items can you put in a rental dumpster?
Rental dumpsters can accommodate a variety of debris and other waste. Some of the most popular uses for roll-off dumpsters include garage and household clean-outs. You can safely toss in household junk, construction debris, yard waste, large furniture, and mattresses.
Overloading a dumpster or putting prohibited items in it can result in additional fees and fines from your local municipality. When in doubt, check with the rental company before tossing an item into the bin.
Never put these items in a rental dumpster
Roll-off dumpster rentals in Pennsylvania are subject to statewide regulations that prohibit the collection of specific materials. You should never put the following items in your rental dumpster:
Batteries.
E-waste items (computers, monitors, printers).
Freon-containing appliances.
Gasoline, oil, and other hazardous liquids.
Hazardous waste.
Items with corrosive/explosive components.
Paints.
Televisions.
Tires.
Do you need a permit for a rental dumpster?
Yes, you may need a permit for a rental dumpster in Pennsylvania, depending on where you plan to place the dumpster. If you're putting it on private property, such as a driveway or construction site, a permit isn't necessary.
If you plan to put your dumpster on public property like a sidewalk or street, then you must obtain a permit from the appropriate government agency first. Check with your local municipality or the dumpster rental service if you're not sure whether you need a permit for your location.
Get the permit before you have your dumpster delivered to avoid fines and other penalties.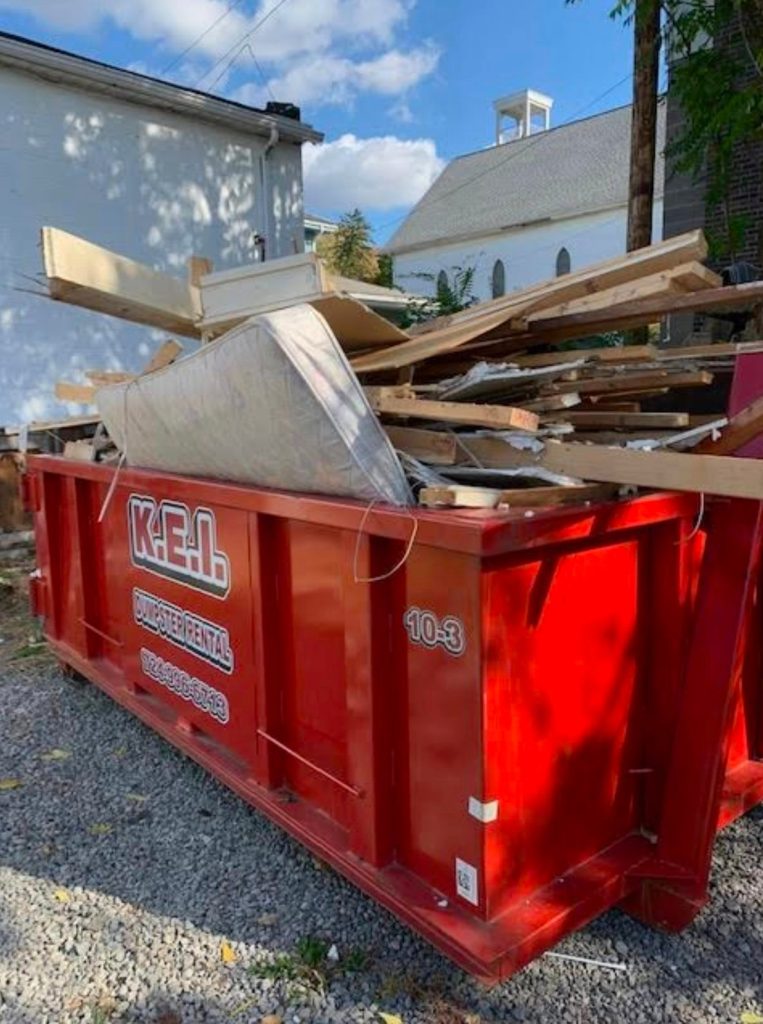 How long can you rent a dumpster?
How long you can rent a dumpster depends on the rental policies of the dumpster rental company and the nature of your project. Some companies offer daily, weekly, and monthly rental terms.
At KEI, our standard roll-off dumpster rental time is 7 days. However, we can extend the rental period on request for an additional fee.
It's important to discuss your project's anticipated duration with the dumpster company before you place your order to avoid additional rental fees.
Additionally, if you finish your project early and no longer need the dumpster on-site, you can contact the rental service to have the dumpster picked up as soon as possible.  
Renting more than one dumpster at a time
Some larger projects require more than one dumpster. You can request multiple dumpsters on site simultaneously, or stagger delivery based on your needs.
If you don't have room for more than one dumpster on your property at the same time, you can request an empty-and-return service option. It works by exchanging your full dumpster for an empty one. The cycle continues for the duration of your contract.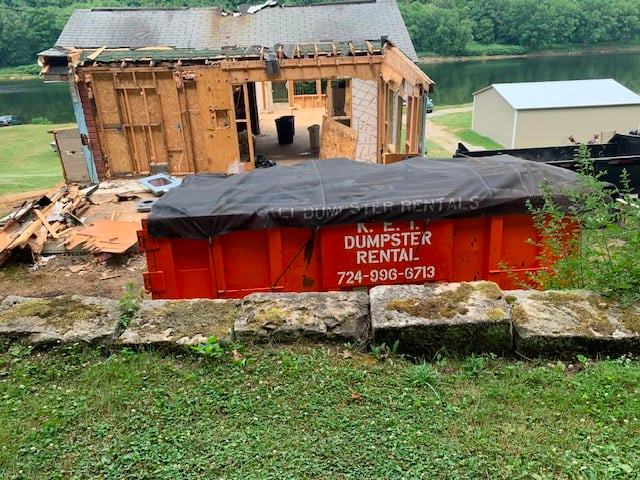 Where can you put a dumpster rental?
You can place dumpster rentals in various locations depending on the type of waste you need to dispose of and local regulations for dumpster placement.
Some of the most common places to put a roll-off dumpster rental include:
Construction sites usually have designated areas for dumpsters. The area must be easily accessible to construction workers and away from the public for safety reasons.
Driveways are a popular location for roll-off dumpster rentals in residential areas. If you have a driveway that's long and wide enough to accommodate a dumpster, it's one of the preferred places to put it to ensure easy access to you and the rental company that drops it off. It's also the best way to avoid paying for a permit if it's on private property.
Parking lots are ideal places for commercial property or events that require a roll-off dumpster rental on site. Make sure you have the property owner's permission and check for any permit requirements.
Streets or public property is the least ideal place to put a rental dumpster. However, sometimes it's necessary. In these situations, you might need a permit from a local government authority, especially if the dumpster might block access to a public space like a roadway, parking space, or sidewalk.
If you're not sure where the best location is for a roll-off dumpster on the site where you need it, consult with the rental company. They can help you choose a placement that's convenient for everyone.
How much do dumpster rental services cost?
The cost of dumpster rental services depends on the size of the bin you request and the length of your project. Most dumpster rental companies provide estimates before delivering a bin to your requested location.
Here are some tips to help you get the best price on a roll-off dumpster rental:
Book in advance. Booking a dumpster rental in advance helps you get a better price. Rental companies sometimes offer discounts for bookings made days or weeks ahead of time. It also guarantees you'll get a dumpster when you need it.
Choose the right size dumpster. Ordering a dumpster that's too small or too large for your needs ends up costing you in the long run. For too-small dumpsters, you'll need extra trips at an additional fee. If you get one that's too large and you only fill a small portion of it, that's also money wasted.
Compare prices. Don't just take a company's word that they have the lowest prices on dumpster rentals near you. Get quotes from different rental companies and compare the prices and the terms of service to ensure you get the best deal. Don't forget to check out a dumpster rental services company's reviews to see what other customers thought of their experience.
Rent during off-peak times. Spring and summer are peak times for roll-off dumpster rentals. Choosing an off-peak time like late fall or mid-winter can save you money. Dumpster rental companies sometimes offer discounts to encourage bookings during times of less demand.
Dumpster rentals near me
Dumpster rental services are an affordable solution for anyone who needs to dispose of a large amount of waste. House and garage clean-outs, renovations, and construction projects can rely on a roll-off dumpster on site to improve project efficiency.
Don't forget to consider the size, duration, and location of your roll-off dumpster rental needs before calling a dumpster rental company to ensure you get the best service possible.