Local dumpster rentals are your go-to resource for seasonal decluttering and efficient disposal of debris and other waste from construction projects.
Choosing a roll-off dumpster rental service doesn't have to be complicated when you understand how the process works. In this helpful guide, we explore some of the most common questions about local dumpster rentals to help make the process smoother.
Whether you're a homeowner trying to declutter before overnight guests arrive or a business owner renovating your retail space to improve the user experience for customers, you likely have some or all of these questions:
What are local dumpster rentals?
Local dumpster rentals are a service provided by waste management companies. They offer temporary access to roll-off dumpsters of all sizes to help you conveniently and efficiently manage waste disposal.
You can reserve dumpsters to accommodate home or business renovations, construction, decluttering, and other activities that generate too much waste for curbside pickup with your regular trash hauler.
Some of the key features of local dumpster rentals include:
Convenience for disposing of large amounts of debris and other waste in one central location.
Cost-effective compared to making multiple trips to the dump using your vehicles.
Flexible pickup and drop-off delivery options that coordinate with your project timeline.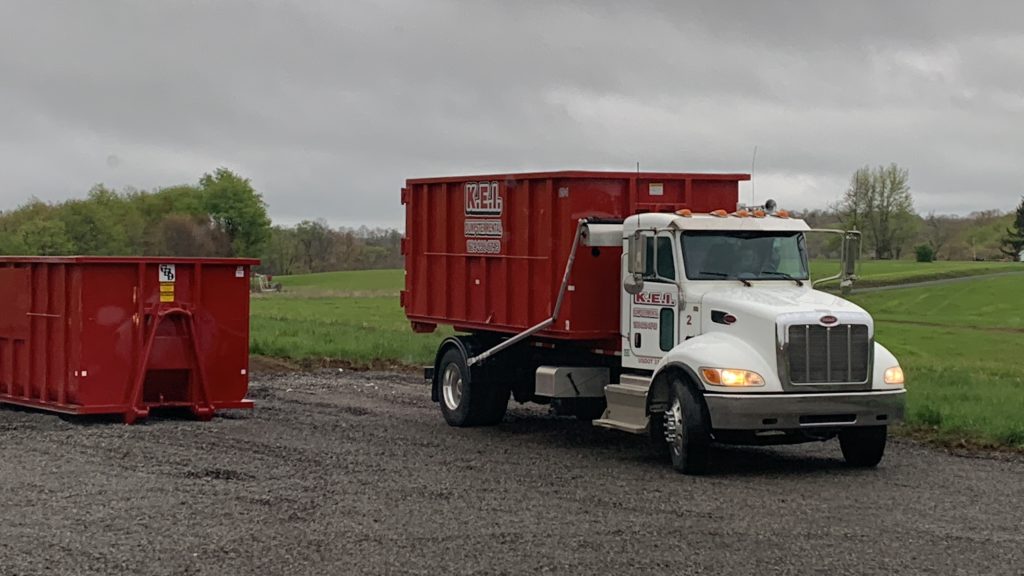 Why choose local dumpster rentals over other options?
Choosing local dumpster rentals over other waste disposal options depends on the specific needs of your project, the volume of waste generated, and other considerations like cost and convenience.
Let's compare the benefits and best uses of roll-off dumpster rentals with some of the alternatives to help you make the best decision.
Local dumpster rentals
Local dumpster rentals are convenient, cost-effective, and versatile, making them one of the best options for everything from construction projects and renovations to cleanouts.
Convenient – roll-off dumpsters are delivered to your location and retrieved by the dumpster rental service when your agreed-upon rental period ends.
Cost-effective – most local dumpster rental companies charge reasonable fees for using their services compared with what you could expect by making trips to the local dump yourself.
Versatile – roll-off dumpsters are a convenient and safe way to dispose of debris and other waste from a variety of projects.
Bagster removal systems
Some home and tractor supply retailers offer Bagster removal systems. Consumers buy a "bag" of a predetermined size and then fill it with debris and other waste.
While this might seem convenient and affordable, there are some drawbacks to using this kind of service.
First, they have limited capacity, making them an unsuitable choice for big cleanouts or small construction projects. Most hold up to 3,300 pounds (the equivalent of roughly one cubic yard of heavy materials).
Second, these types of systems are limited to certain areas of your property for convenient pickup. These restrictions might make trips to the Bagster carrying heavy debris awkward.
Traditional curbside pickup
Traditional curbside pickup has many restrictions on the types of materials it accepts. Weight restrictions also can be an issue when trying to dispose of materials from even the smallest renovation projects.
Additionally, your regular weekly trash day may not align with your project timeline, leaving you storing unwanted waste on your property for longer than you'd prefer.
Hauling to the landfill
Hauling debris and other waste to the landfill yourself is an option. However, you can rack up a lot of miles handling disposal in this manner. Not to mention you may need to rent a pickup or box truck to move larger items that don't easily fit into a passenger vehicle.
Another issue with this method is it's very time-consuming.
By the time you add up all these factors, it's likely cheaper to rent a roll-off dumpster from a local dumpster rental company.
Professional Junk Removal Services
Professional junk removal services are convenient if you prefer to have someone else handle all the hard work of removing and disposing of clutter and other waste from your home or business.
However, you're going to pay for the convenience. Professional junk removal specialists are more expensive than dumpster rentals, which can be a costly mistake for smaller projects you could easily handle yourself.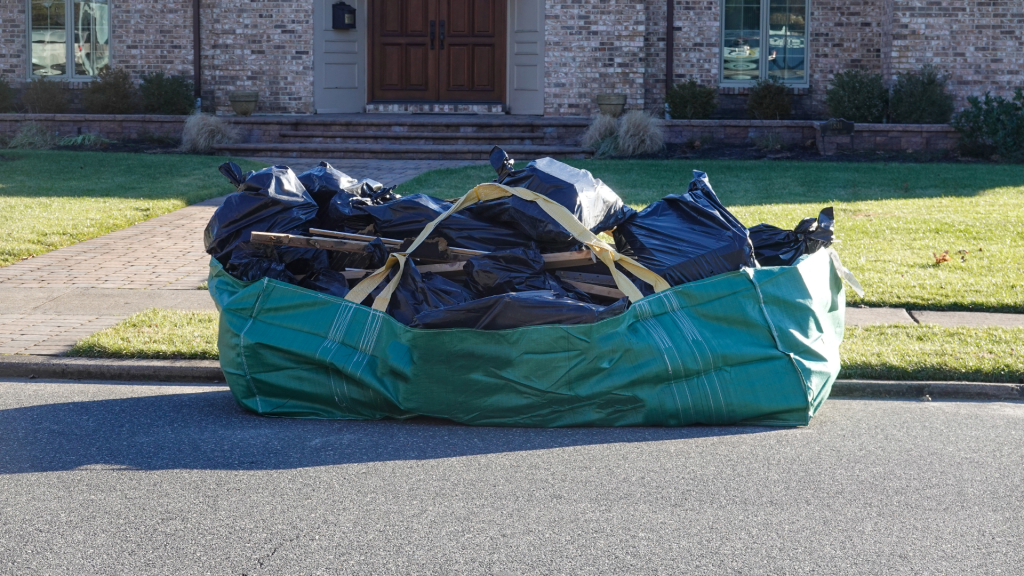 How do you choose the right-sized dumpster for your project?
Most dumpster services offer several sizes to accommodate your needs. The smallest unit KEI offers is 10 yards, which is ideal for cleanouts, concrete disposal, and light demolition projects.
You don't have to guess to find the right-sized dumpster when you consider the following factors:
Available space – evaluate how much space you have on-site for a dumpster, then choose from the options offered by the dumpster rental service that are ideal for your space limitations. Make sure you leave enough room for the delivery truck to load and unload the dumpster safely.
Amount and type of waste – estimate the volume of waste you expect to produce with your project to ensure you choose a dumpster sturdy enough to handle it.
Project timeline – for smaller projects that take a few days to complete, you can probably get away with the smallest sized dumpster available.
Weight restrictions – roll-off dumpsters include weight restrictions. Overloading them can pose safety hazards for you and for the dumpster delivery driver.
If you're stuck, local dumpster rental companies can help you choose the best-sized roll-off dumpster for your project. Just provide some details about how you intend to use it and they can recommend the best option.
What items are prohibited in local dumpster rentals?
Roll-off dumpster rentals aren't a one-size-fits-all solution to your waste disposal needs. There are restrictions on the types of debris and other materials you can toss into them.
Most local dumpster rentals prohibit the following items:
Batteries
E-waste items (computers, monitors, printers)
Freon-containing appliances
Gasoline, oil, and other hazardous liquids
Paint
Televisions
Tires
Never toss items with corrosive or explosive components into a roll-off dumpster. If you have items of this nature that need disposal, ask for recommendations from the dumpster rental service on the best way to handle those needs.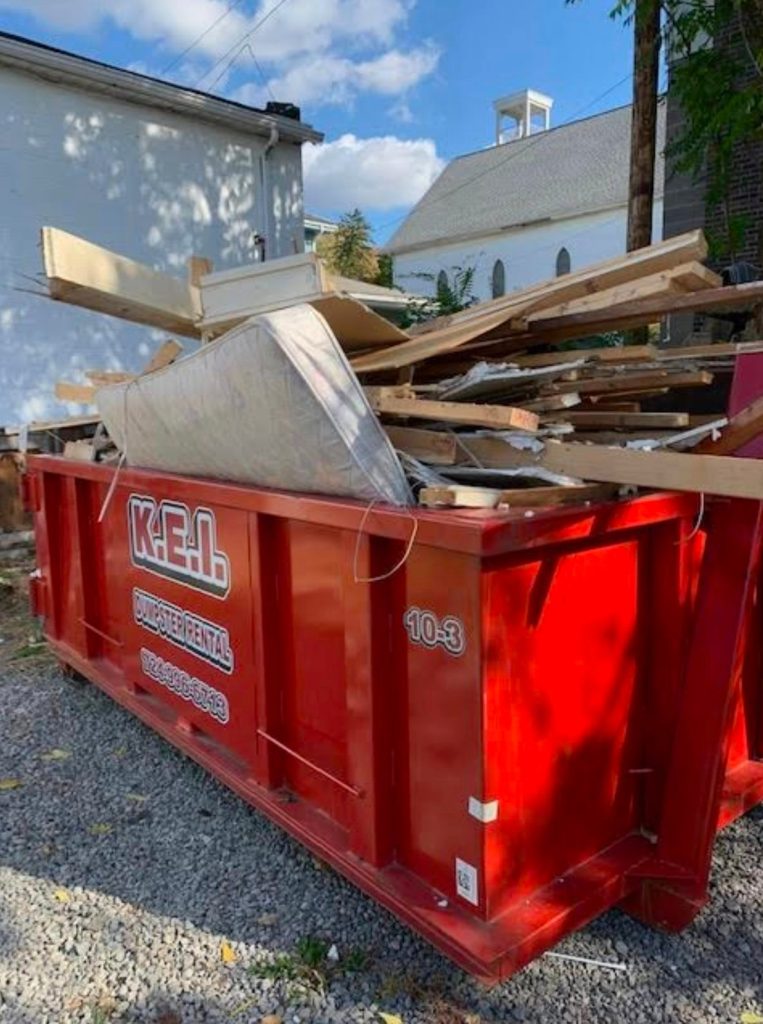 What are some tips for a smooth dumpster rental experience?
Scheduling your roll-off dumpster delivery well ahead of time is one of the smartest things you can do to ensure a smooth dumpster rental experience. This is especially important during peak rental times (spring and summer).
Some other tips for achieving local dumpster rental satisfaction include:
Avoiding prohibited items to prevent problems at pickup or disposal.
Loading materials in a way that evenly distributes the weight and avoids overloading.
Monitoring weight limits to avoid additional fees or other issues at pickup time.
Securing permits, if necessary, for the placement of your dumpster on your property.
Local dumpster rentals for all your projects
Tackling home renovations, decluttering the basement, or other ambitious construction projects don't have to be a hassle when you choose local dumpster rentals for your waste disposal.
KEI has the right-sized dumpster to fit every project. Give us a call today to schedule your next roll-off dumpster rental.