In the face of unexpected disasters, the road to recovery often begins with safe and efficient cleanup efforts. Construction dumpsters can help you take a strategic approach to debris management after a flood, fire, or other unexpected disaster.
These robust bins become lifelines for homeowners and businesses. They offer a reliable solution to what can feel like an overwhelming task of clearing waste and reclaiming spaces in the wake of an unforeseen calamity.
In this blog, we explore three times construction dumpsters can help with emergency cleanups, plus how to reach out to a roll-off dumpster rental service in your time of need.
1 – Construction Dumpsters for Flood Cleanup
Flooding can cause extensive damage to homes and businesses. Whether it's from a flash flood or a busted water line that went unnoticed over the weekend at your business, destruction can be swift and severe.
Quick action is necessary to prevent the buildup of toxic mold growth and to prevent further damage.
Construction dumpsters help with the removal of water-damaged furniture, flooring, and other materials that can't be disposed of in regular curbside pickup.
Choosing the right sized dumpster
Choosing the right-sized dumpster is essential for cleaning up quickly. You want to make sure all the damaged items fit in the bins for safe transport.
If you're unsure what size you need, consult the roll-off dumpster rental service. Tell them what kinds of materials are damaged and require removal from the premises. They can help you choose optimal dimensions – and even help decide if you need more than one dumpster on site – to get rid of items quickly.
2 – Construction Dumpsters for Fire Damage Restoration
Fires can leave a trail of devastation, causing extensive damage to homes and commercial properties. The aftermath often includes charred remnants of personal belongings, compromised structural elements, and other debris.
After the flames are extinguished, home and business owners face a comprehensive cleanup and rebuilding process that can generate a lot of waste materials.
Construction dumpsters provide a safe and efficient way to remove fire-damaged items and other construction materials during rebuilding. You can work with a roll-off dumpster rental service near you to choose the appropriate size and number of dumpsters needed for cleanup and restoration efforts.
Fire restoration waste disposal plan
Dumpsters have weight limits. Large items already have bulk to them. Adding water-logged carpeting and other fabrics can add up quickly.
It's best to load large items first, then pack everything else around them. You may need more than one dumpster on site or arrange for pickup and return service once a dumpster gets full.
Never dispose of E-waste and hazardous materials in your dumpster. If you have these items, you must talk with your roll-off dumpster rental service about how to dispose of them properly.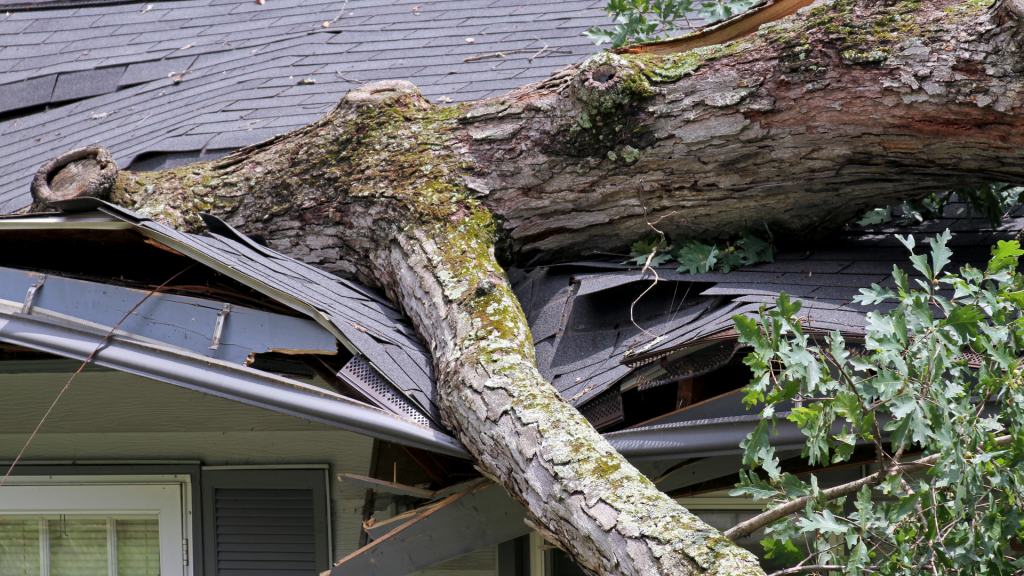 3 – Construction Dumpsters for Severe Storm Debris Removal
Severe and fast-moving storms aren't uncommon in Western Pennsylvania. High winds and tornados, flash flooding, and hail can leave quite a bit of damage behind.
Home and business owners may need a construction dumpster to clear fallen trees, branches, and other storm-related debris. If there's exterior damage to your property, a dumpster provides a convenient way to remove ruined items and manage debris during restoration quickly and safely.
Minimizing hazards during cleanup
Safety must be your top priority when using a construction dumpster for storm debris removal. Follow these tips to mitigate risks:
Wear protective gear including gloves, steel-toed boots, and safety goggles.
Use proper lifting techniques for heavier items by lifting with your legs and not your back.
Avoid overloading by following the weight limits designated by your construction dumpster rental company.
Watch for loose debris near the dumpster to avoid trips and falls.
Construction dumpsters for all your emergencies
It's never a bad idea to assess your preparedness for dealing with an emergency that can cause extensive damage to your home or business. Part of any emergency plan involves a reliable roll-off dumpster rental service you can count on for prompt delivery and reasonable prices.
KEI offers construction dumpsters for residential and commercial customers in Armstrong, Butler, Mercer, Northern Allegheny, and Venango counties. You can count on us the next time disaster strikes.