Finding local dumpsters at affordable prices makes home renovation projects, decluttering your living space, or managing waste from a construction project more manageable.
Regional roll-off dumpster rental companies offer convenience, personalized service, and a deep understanding of the waste management needs in their communities.
Choosing the best dumpster rental service for your needs – and your budget – can feel overwhelming. Use our guide to get helpful tips on making the best decision. In it, we answer some of the most common questions about local dumpster rental, including:
How do you find local dumpsters to rent?
What's the benefit of choosing local roll-off dumpster rental companies?
Are there any specific local regulations to consider when renting?
What are the hidden costs of renting local dumpsters?
How do you verify the reliability and reputation of dumpster rental companies?
How do you find local dumpsters to rent?
It's not difficult to generate a list of companies offering local dumpsters for rent. Many people log on to their favorite search engine and type in "roll-off dumpster rental near me" or "dumpster rental Butler" to get a list of relevant options.
However, other ways exist to find options (and to ensure you're choosing a reputable company). Some other methods include:
Asking for recommendations. More than 90% of consumers trust the advice of family, friends, and neighbors when making a purchase of any kind. Dumpster rentals are no exception. Seek recommendations from people who have used the service recently to narrow down your list of providers.
Checking social media. Another way to find local dumpsters is by visiting community groups on social media platforms like Facebook. Ask other group members if they've had a good experience and with which company.
Factors to consider when choosing
Once you have your list of reliable roll-off dumpster rental companies, consider some other factors before deciding.
Read online reviews. Most dumpster rental companies have a Google My Business account or social media accounts such as Facebook that allow customers to post reviews. Look for both and see what others have said about their experiences. If a customer left a bad review, check to see how the company responded to gain insight into their customer service practices.
Check the Better Business Bureau. The BBB keeps records on most businesses, including customer complaints. See if the dumpster rental company you want to use has any complaints and if so, how they were resolved.
Verify licensing and insurance. Loading, unloading, and transporting debris and other waste materials requires specific licensing. Make sure the company you've chosen has the appropriate insurance and professional licensing before booking a dumpster rental.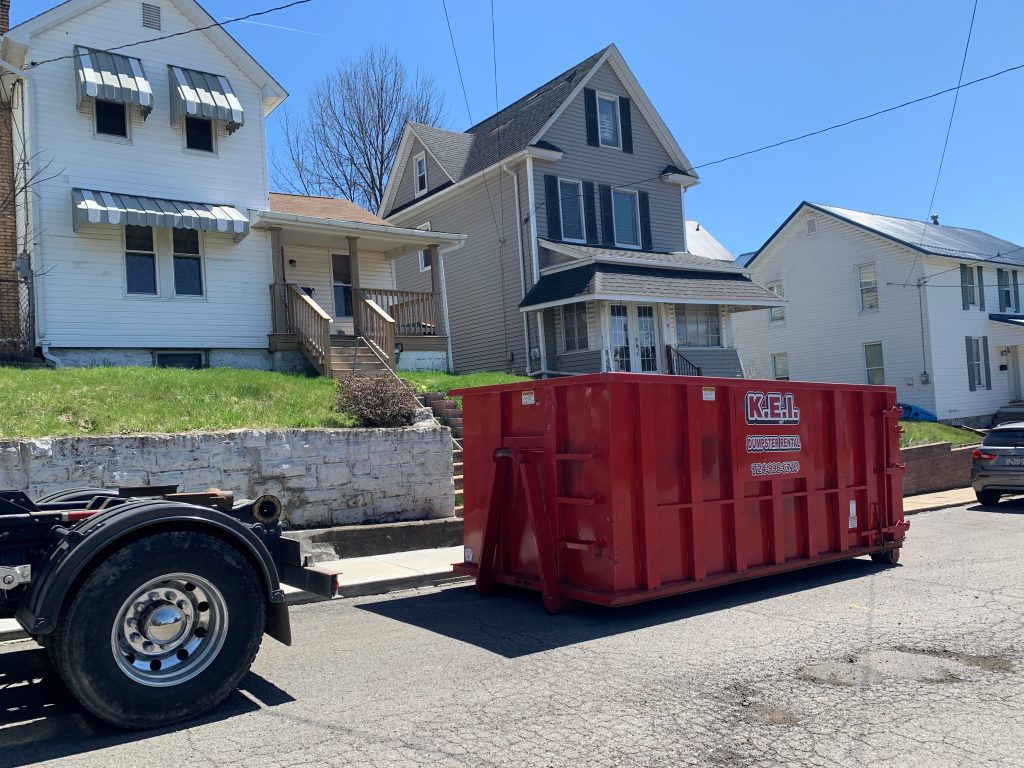 What's the benefit of choosing local roll-off dumpster rental companies?
You might be tempted to go with a national brand when renting a dumpster thinking it guarantees you higher quality or better customer service. That's not always the case. Sometimes, the exact opposite happens.
Choosing a local roll-off dumpster rental company over a national brand can offer several benefits, including more personalized service. Local dumpster rental services understand the waste management needs of their communities. They can accommodate special needs, often without charging a premium for the privilege.
Some other reasons to choose local dumpsters over national brands:
Enhanced customer service. Dumpster rental services within your community prioritize building strong relationships with their customers. They're invested in maintaining a positive reputation and are more likely to provide excellent customer service to earn repeat business and referrals.
Faster response times. Local companies typically have faster turnaround times for delivery. They also may respond to inquiries sooner, ensuring you get the size – and number – of dumpsters, you need when you need them.
Local knowledge. Nearby dumpster rental companies have an intimate knowledge of local regulations, permit requirements, and waste disposal practices. They can help you avoid fines or legal issues by ensuring you comply with all necessary guidelines.
Reduced transportation costs. Local delivery means a smaller service area, which in turn cuts down on transportation costs for delivering and picking up dumpsters. This benefits the customer by making pricing more competitive.
Are there any specific local regulations to consider when renting?
Each county and local municipality has its own waste management rules and guidelines. Some require permits for local dumpsters, while others may have restrictions on where you can place a dumpster.
Here are some of the common regulations to consider:
Accessibility. One of the most important things you can do is make sure the area where you want the dumpster placed is easily accessible for delivery and pickup.
Environmental regulations. Local environmental regulations may impact how waste is handled and disposed of by dumpster rental companies. It also may dictate which items you can place in a dumpster and which must be disposed of differently to protect the environment.
Noise and nuisance regulations. Some communities have noise restrictions, especially during specific hours. Make sure you're not having dumpsters delivered or picked up during these times.
Weight limits. Dumpsters have weight limits for a reason. Overfilled dumpsters create safety hazards for the drivers transporting them and other motorists on the roadways. Additionally, some local roadways can't handle heavy trucks. Check with your municipality to verify there are no such weight restrictions on any local roads before ordering a dumpster delivery.
Local dumpster rental companies are familiar with the rules and regulations for their service areas. Don't be afraid to ask them questions if you're not sure what guidelines you must follow.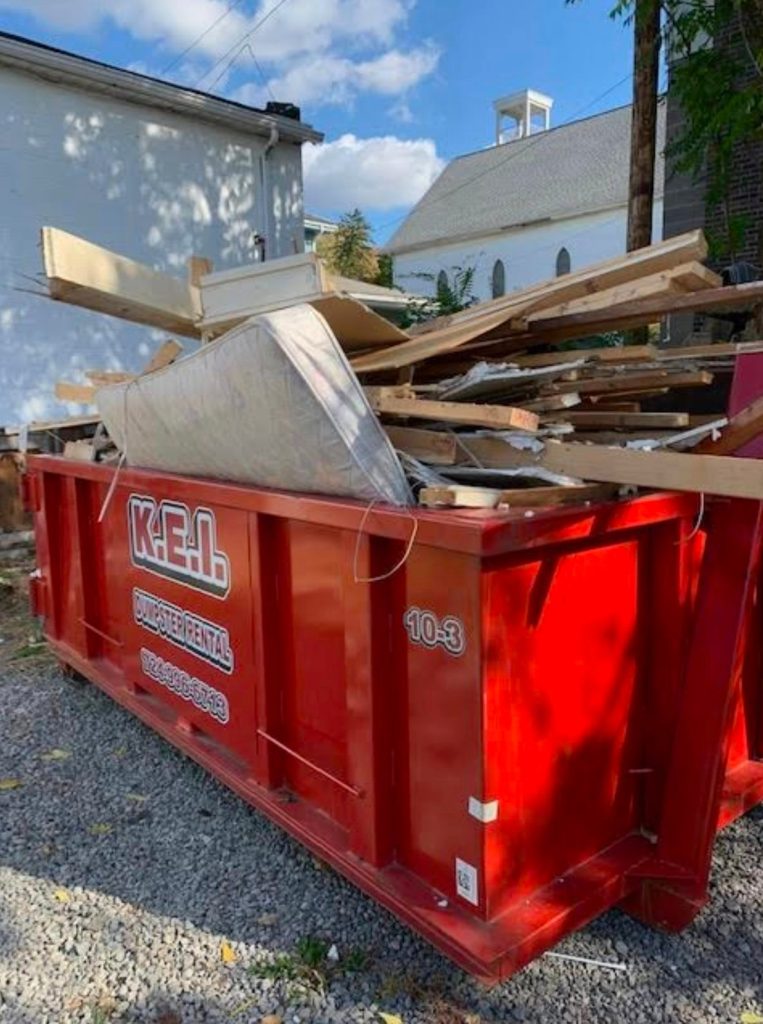 What are the hidden costs of renting local dumpsters?
It's important you're honest with your dumpster rental company about the kinds of materials you plan to toss out. Some items are prohibited from disposal at the local landfill. Others incur an additional charge for handling, which is passed on to the customer.
Some other fees you might incur include:
Damage fees. If the dumpster or any surrounding property is damaged, you may be responsible for covering repair costs.
Delivery and pickup charges. Some companies include this in the initial quote, while others may charge it separately. Make sure you understand if these fees are included in the original quote and if not, how much extra you must pay.
Extended rental period. If you need to keep the dumpster longer than originally anticipated, you may incur additional daily or weekly charges, depending on the rental company's fee policy.
Overweight fees. Dumpster rental companies have weight limits for their containers. If you exceed the weight limit, you may receive additional charges for the excess weight. Landfills make companies pay by weight for disposing of debris and other rubbish. Rental fees are based on these weight limits.
To avoid any hidden costs, request a detailed quote that includes all potential charges upfront. Understand the rental agreement and ask for clarification on any unclear terms.
How do you verify the reliability and reputation of dumpster rental companies?
Local dumpsters have many benefits, but how do you verify the reliability and reputation of dumpster rental companies in your community?
Checking the status of the company on the BBB and verifying they have the appropriate insurance coverage and license to practice are the most important steps you can take.
Other ways to assess the company's credibility include:
Complaint resolution. Reliable companies have a complaint resolution process in place and can explain it to their customers when asked. Any policy should address your concerns promptly and professionally.
Online presence. Check a company's website and social media profiles. A well-maintained website and active social media presence can suggest the company is engaged with its customers and takes its online reputation seriously.
References and recommendations. Ask the dumpster rental company for references from past customers. Make sure you follow up by talking to the references provided.
Years in business. Consider the roll-off dumpster rental company's history. If they've been in business for several years, it's a sign they are experienced in the industry and have a solid reputation with local customers.
KEI Dumpster Rental is a family-owned business. Our team of knowledgeable professionals has served Butler County and surrounding areas for many years.
We make renting a dumpster easy and convenient. Give us a call today to discuss your needs or to schedule a dumpster delivery.