Dumpster sizes matter when renting for a commercial business. The capacity you choose depends on why you need a roll-off dumpster rental.
Commercial clean-outs and renovations are just two of the reasons why businesses may find themselves needing to dispose of debris and extra junk not suitable for their regular trash pickup day.
Before you reach out to order a dumpster, review these 7 frequently asked questions about commercial dumpster rental services. We talk about available dumpster sizes and other facts you need to know to choose the best option.
In this blog, you can learn: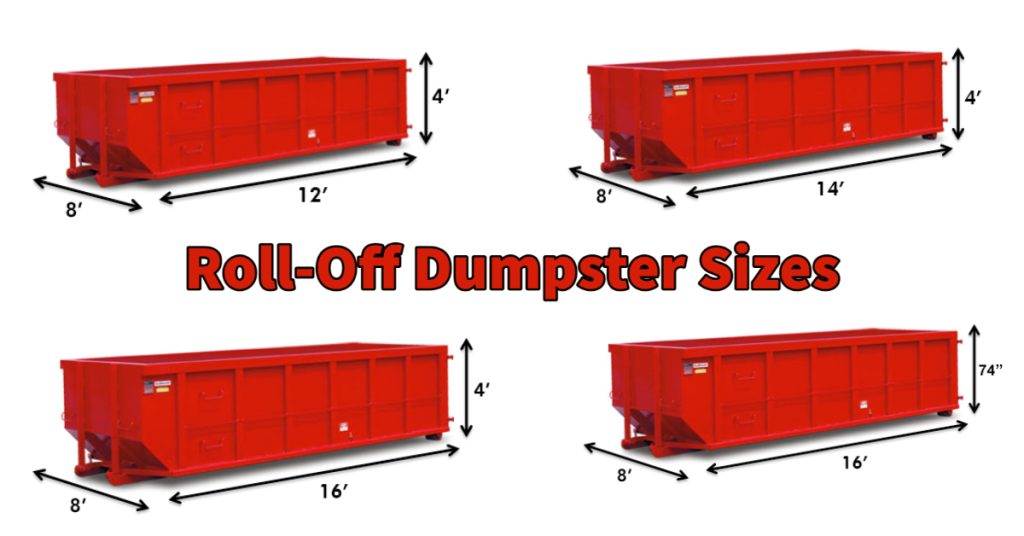 What are the available commercial dumpster sizes?
Commercial dumpster sizes vary depending on which dumpster rental service you use. At KEI Dumpster Rental, we recommend two options for our commercial customers. We have smaller sizes, but they generally are not capable of handling the capacity our commercial customers require.
20-yard containers are 16 feet long, 4 feet high, and 8 feet wide. They hold up to 3 tons of material. Commercial and industrial sites find this size useful for most jobs that require debris removal.
25-yard containers are 16 feet long, 6.16 feet high, and 8 feet wide. They hold up to 3.5 tons of material. Large construction and industrial sites find this size appropriate for accommodating most debris and other waste removal needs.
If you're not sure which size works best for your needs, ask one of our associates when you call to schedule delivery. We can right-size your rental dumpster. You never pay for more than you need or choose a dumpster that's too small to accommodate your debris and other waste.
What types of businesses benefit from commercial dumpster rentals?
Commercial roll-off dumpster rentals are a critical component of operations for industries that frequently generate significant waste.
Construction and renovation companies produce different types of waste. Old drywall, insulation, scrap metals, and concrete blocks are common on their work sites. None of these materials can go into regular dumpsters for curbside trash removal.
Manufacturing and industrial facilities produce large volumes of waste. Production scraps, packaging materials, and other byproducts require proper management.
These commercial businesses enjoy several benefits of renting a roll-off dumpster:
Enhanced reputation and customer satisfaction. Effective waste management contributes to a positive image and showcases their commitment to the environment by disposing of debris properly.
Guaranteed compliance with municipal, state, and federal regulations. Commercial customers who use a reputable roll-off dumpster rental service meet all regulations regarding waste disposal, recycling, and environmental protection.
Commitment to the cleanliness of work sites. Dumpster rentals provide a centralized and efficient waste disposal solution. Without them, waste can pile up on your work site quickly, creating an unsafe – and unsightly – work environment.
How long can you rent a commercial dumpster?
At KEI, our standard roll-off dumpster rental period is 7 days. We drop off the dumpster at your desired location and return after the 7 days are up to retrieve it.
If you need to keep your rental dumpster longer or want to have ongoing delivery and retrieval service, let us know when you call to reserve your dumpster.
Some commercial customers find it convenient to arrange regular services. They choose the dumpster sizes needed to accommodate their waste, then schedule a pickup and retrieval schedule that works for both parties.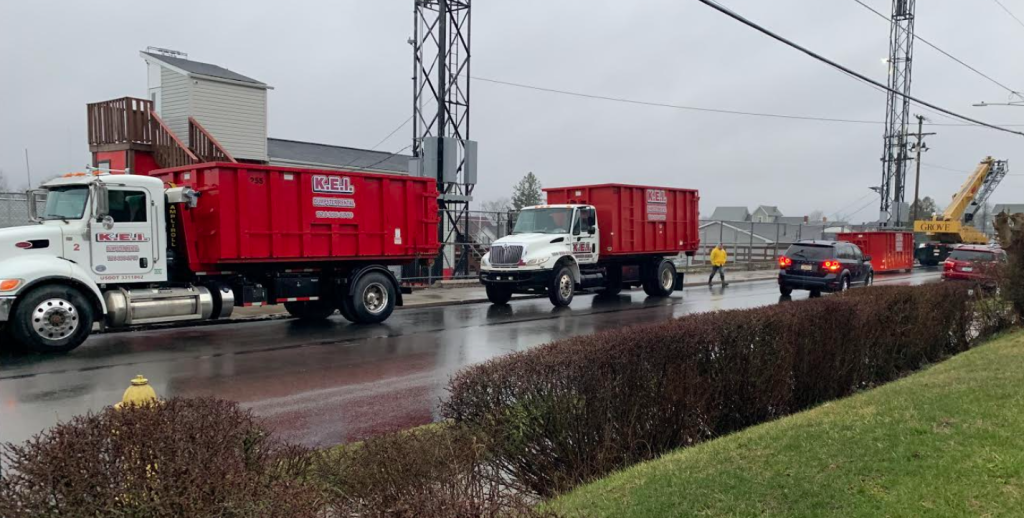 Can a commercial dumpster be emptied and returned during the rental period?
Some roll-off dumpster rental companies offer ongoing service that replaces full containers with fresh ones according to a pre-determined schedule. Construction companies and industrial manufacturers find this option attractive because of the sheer amount of debris and other waste they produce daily.
When calling to inquire about renting a high-capacity roll-off dumpster, be sure to mention you want this option to see if the dumpster service offers it.
Are there any restrictions on what can be put in a commercial dumpster?
Pennsylvania has strict guidelines on what can go in rental roll-off dumpsters. The following items are banned or restricted for collection:
Batteries.
E-waste items (computers, monitors, printers).
Freon-containing appliances (air conditioners, freezers, refrigerators).
Gasoline, oil, and other liquids.
Hazardous waste.
Paints.
Televisions.
Tires.
If you're not sure whether a material you need to dispose of is appropriate for a roll-off commercial dumpster, check with the company you plan to rent from to verify before placing your order.
How does the dumpster rental process work for commercial customers?
Commercial customers find it easy to rent roll-off dumpsters when they call KEI. Our removal specialists help you choose the dumpster sizes you need while making the process convenient and painless.
Here's how it works:
Choose a delivery size and location. You tell us what size you want and where you want us to leave it.
Prepare your site for a dumpster delivery. Remove any low-hanging obstacles, materials, or vehicles to make room for your dumpsters. Some municipalities require special permitting for dumpsters. Make sure yours isn't one of them.
Load your dumpsters. Put large items in first to keep the weight distribution even. Never overload your dumpster. If your materials don't fit, it's a sign you need a bigger dumpster or ongoing pickup and delivery services.
Schedule pickup. We'll automatically retrieve our dumpsters after 7 days unless you've made other arrangements.
How much does it cost to rent a dumpster for commercial use?
How much it costs to rent a dumpster for commercial use depends on the size of the dumpster you request and the duration of the project.
Request a quote from KEI to estimate the cost. We'll need to know the size of dumpsters you need, how many you need, and whether it's a one-time rental or an ongoing service to provide accurate pricing.