Commercial roll-off dumpsters offer businesses and construction or industrial sites a convenient solution for disposing of large quantities of debris and other waste. Evenly distributing the weight of materials in your commercial roll-off dumpsters is crucial for safety, efficient disposal, and cost-effectiveness.
Understanding how weight capacity works helps you get the most out of your dumpster rental services. By following a few simple guidelines, you can prevent accidents and reduce the strain on the dumpster rental service equipment used to deliver and retrieve your dumpsters.
In this blog, we touch on some of the most common questions about how weight capacity affects your commercial roll-off dumpster service, including:
What is the weight capacity of a roll-off dumpster?
The weight capacity of a roll-off dumpster depends on the size of the dumpster you've ordered. Weight limits vary from one dumpster rental service to the next, so it's important to ask the company you plan to use for specifics on their bins.
Dumpster sizes vary by rental company. KEI offers four options for our commercial customers.
Option 1: 10-Yard Container
Our 10-yard containers are the smallest size we offer. They're 12 feet long, 4 feet high, and 8 feet wide. They hold up to 2 tons of material. These bins generally are too small for most of our commercial customers. However, they're popular among residential clients who want to use them for cleanouts, small remodeling projects, and landscape debris.
Option 2: 15-Yard Container
Our 15-yard containers hold 2.5 tons of material. They're 14 feet long, 4 feet high, and 8 feet wide. Most commercial customers find these bins too small to meet their waste disposal needs, especially if they need them for a construction site. If on-site space is an issue preventing a larger dumpster, you may need to arrange for frequent pickup and return services with this size dumpster.
Option 3: 20-Yard Container
Our 20-yard container accommodates up to 3 tons of material. They're 16 feet long, 4 feet high, and 8 feet wide. Contractors specializing in new construction and large remodeling projects find this size ideal for meeting their needs. Industrial sites also favor this size, finding it more than adequate for waste disposal.
Option 4: 25-Yard Container
Our 25-yard container is the largest size we offer at 16 feet long, 6.16 feet high, and 8 feet wide. They easily manage up to 3.5 tons of material, making them ideal for large construction and industrial sites.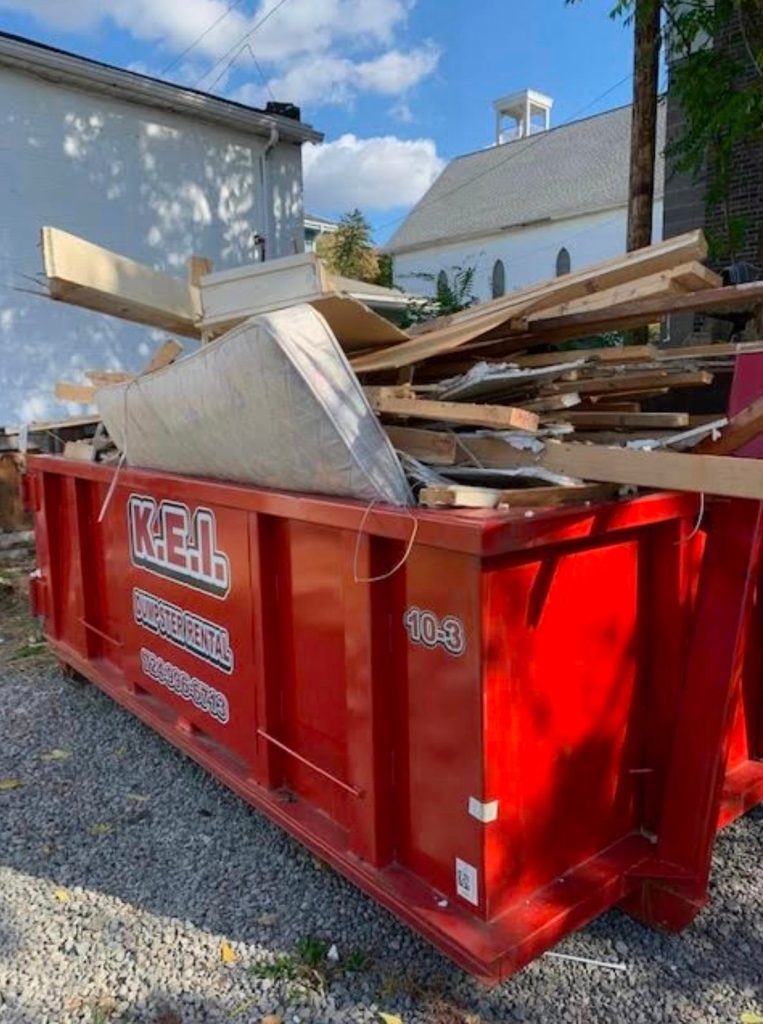 Why is even weight distribution important?
Loading as much material into your roll-off dumpster as you can reasonably fit saves money. That's one of the most important reasons for distributing the weight evenly in your bin. If you leave large pockets of space unfilled, that's money you've lost on your rental.
Some other critical reasons for managing weight properly include:
Safety. Even weight distribution maintains stability during handling and moving. Unevenly loaded dumpsters can become unbalanced during loading and transport, increasing the risk of a tip over. Tipped dumpsters can cause property damage, injuries to workers, and harm to any bystanders.
Dumpster protection. Evenly distributing weight prevents excessive pressure on certain areas of the dumpster. Overloading one area can cause structural damage, leading to costly repairs or making it unfit for safe use.
Weight limit compliance. Some cities and municipalities have strict weight limits for dumpsters because of road restrictions or landfill regulations. An evenly distributed load keeps the roll-off dumpster within legal weight limits, preventing potential fines for overloading.
Environmental impact. Proper weight distribution contributes to responsible waste disposal. Waste is less likely to spill out of an evenly loaded roll-off dumpster during transport. Reducing litter along the roadways prevents environmental pollution.
What are some tips for evenly distributing roll-off dumpster weight?
You know why it's important to distribute weight evenly in your commercial roll-off dumpster. Now, let's discuss some tips for ensuring your items are loaded efficiently and safely.
Avoiding the overfilling of your commercial dumpster is the most critical aspect of even distribution of weight. It's tempting to squeeze as much material into the dumpster as possible. Sometimes, this leads to poor decisions about keeping debris and other waste below the fill line.
Exceeding the maximum weight capacity ends up costing you money through possible fees and fines. Your roll-off dumpster rental company may refuse to pick up your bin if it's unsafe for transport because of overloading. Ask for help with dumpster sizes if you're unsure which one fits your needs best.
Some other tips for even weight distribution include:
Spread heavier items across the bottom. Place heavier and denser materials at the bottom to create a stable base. The foundation supports the rest of the load and prevents the dumpster from becoming top-heavy and risking a tip-over.
Layering and flat-packing. Organize waste by layering and packing it flatly. Avoid creating mounds and peaks, which can lead to unbalanced loads. Break down large items, when possible, to maximize space and distribute weight.
Distribute weight along both sides. Aim for an even distribution of weight along the length of the dumpster to maintain balance and stability during handling and moving.
Use ramps and loaders. Commercial customers loading heavy items should consider using ramps and other loaders to ensure safe placement into the bin. Not only does this protect your workers, but it also ensures even weight distribution.
What's the difference between volume capacity and weight limit?
Dumpster sizes play a significant role in even weight distribution. Understanding the difference between volume capacity and weight limit helps you achieve a balanced load for safe handling and transport.
Volume capacity is the amount of space in your roll-off dumpster. Most roll-off dumpster rental companies measure volume capacity in cubic yards, which are a measure of volume, not weight. The weight of a full dumpster differs depending on the kind of material put into it. It's possible to reach your weight limit before your dumpster is full.
Weight limit is measured by tonnage. It's a boundary that dumpster rental services use to determine costs for rental and safe loads for handling and transporting. Landfills charge for disposal by the ton. Make sure you match the estimated weight of the materials you want to dispose of to your dumpster size to avoid additional fees.
Dumpster sizes to fit your commercial or industrial needs
Choosing dumpster sizes that fit your commercial or industrial needs is tricky. Following the provided tips ensures a balanced lad, minimizes risks, and helps you get the most out of your dumpster rental.
To ensure you right-size your roll-off dumpster rental, give us a call to discuss the scope of your project. One of our team members is happy to assist to ensure you don't exceed your bin's weight capacity.